Buying the unexpected.

8 responses

•
21 Nov 06
I sure did, I went out to get a video recorder, (this was 10 years ago) came back with a car,,honest, my wife was stunned lol


• Cambridge, England
18 Nov 06
I know very well how dangerous that can be! I haven't done it for some years now but I used regularly to nip round the corner for a bar of chocolate (which involved passing a camera shop) only to find myself the proud owner of some 'bargain' or other of photographic equipment - now, of course, practically valueless! There is a graveyard of camera stuff in the loft!

• Iceland
18 Nov 06
Oh yes, I do that almost every time I leave the house! Once I went to the computer store to buy a new keyboard after my coffee cup decided to trip over and ruin my keyboard. I came home with a $4000 laptop computer. That was a few years ago when laptops were still very expensive. I'm terrible when it comes to spending money on computers.

•
16 Nov 06
YES IT ALWAYZZ HAPPNS WHEN I GO OUT SHOPPN WIT MY GIRLFRND

• United States
16 Nov 06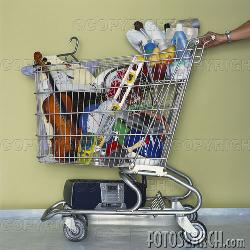 I always do this. I go out to buy something very specific and end up coming home with a car load of stuff that I didn't really need but wanted for some odd reason lol.

• United Arab Emirates
16 Nov 06
yes many ppl do dat...n ihav done it many times...dats y dey keep everythin together in a mall or a walmart...coz its easier to make ppl fall for da speciall offers!!dats buisness dear...every1 uses strategy's to make more sale...so did dat 1...but m sure u were happy u got a bicyle!!!

• India
21 Nov 06
generally happens eg went to buy clothes and bought something else