What is the worst WWE Pay Per View that you ever paid for?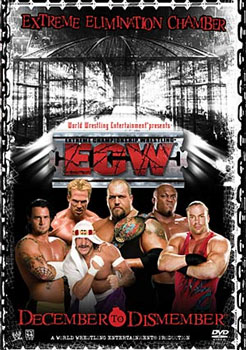 United States
June 3, 2010 6:17am CST
I have watched many WWE Pay Per View's during my day. Some of them good, some of them decent but forgettable. Then there is ECW December to Dismember 2006. The absolute worst Pay Per View ever. I had no idea why I even bought this show, but this was during a period where I was buying every since WWE and TNA show. A practice that I have since stopped and have only limited myself to a handful of shows a year. I mean, they had MNM against the Hardy Boyz which was good and everything else was horrid. Including the worst Elimination Chamber Match ever. Rob Van Dam and CM Punk were eliminated early. Lashley won the title from the Big Show. Lashley never really lit my world on fire to be honest with you. The only match that I was truly excited about with him was the match where he was basically just happening to compete in the ring, when Vince McMahon and Donald Trump put their hair on the line. Still, this Pay Per View was horrible with the exception of one match. I mean with mat classics such as Matt Striker against Balls Mahoney, how could it not be? And it ended I believe early, which actually might have been the best thing that could have happened. Consider the aftershocks of this Pay Per View. 1) It was the beginning of that Lashley run where he got rammed down our throats as a poor man's version of Brock Lesnar/Goldberg/Ahmed Johnson/whatever. 2) It was the beginning of the end of ECW as we knew it. Not that this ECW was ever going to be that ECW, but it was less like the original ECW after this. 3) Paul Heyman was booted after this show. 4) It was the first of a chain of events that lead to Low-Ki/Senshi/Kaval being mentored by Michelle McCool and Layla on the second season of NXT. I blame December to Dismember for this and I blame it for NXT in general. So yeah, December to Dismember is the worst Pay Per View that I had the displeasure of watching. Consider the best match was between four guys who weren't even on ECW, that just speaks volumes. I might even say that this is the worst Pay Per View ever. I mean WCW at their worst was a fun trainwreck in many ways. This was just torture to watch. So how about you? What was the worst WWE Pay Per View you remember having to pay for?
1 response

• United States
23 Jun 10
My husband and I normally buy the pay per views that we think are going to be worth it, like when they have huge drama that has been leading to something good. I must say that this past Sunday's Fatal 4 Way was probably the worst one we ever bought. It ended like 30 minutes early for one and there wasn't as much crap going on as I though there would be. I am anxious to see what will happen next but I doubt we will be buying any more pay per views for awhile. It's just getting ridiculous.

• United States
23 Jun 10
Fatal Four Way didn't seem like a good show from all that I heard. Considering the fact that I had forgotten it was going to happen until I saw the results online, should tell you the interest level. I think I'm down just to Wrestlemania and that's it. WWE's been spinning their wheels a lot lately. I think what's killing them is all these concept Pay Per Views. Next month is apparently a Money in the Bank Pay Per View. Given the buyrates appear to be done across the board, it appears that I'm not alone in this thought. Thank you for your response. It is much appreciated and it contributed to the topic well. Have a nice day and thanks.