In the Morning, What Drink u ?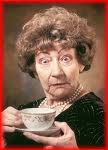 Netherlands Antilles
June 4, 2010 2:39pm CST
The best in the morning is to drink something , some people doesn't care at all What you tink iis the best 2 drink in the morning? 1. Caffee 2. Melk 3. Hot chocolate 4. Tea 5. Beer 6.Lemonade 7.Water
5 responses

• Malaysia
6 Jun 10
before i do anything else in the morning (even before i go to the loo..) i have three glasses of water. it helps to cleanse my system


• Malaysia
8 Jun 10

i'm not sure...i read it somewhere in a japanese book. some way where the traditional japanese take care of their health with natural methods. it didn't sound that difficult, so i tried it out. now it's kind of a habit already


• Canada
4 Jun 10
Green tea all the way."I've been drinkin' green tea all day, I'm pumped!".


• Canada
4 Jun 10
Ya!Green tea definitely has helped me lose weight. Especially when I pair it with exercise. I actually drink it while exercising; I sweat so much!

• Canada
8 Jun 10
my preference is not on your list, every time i woke up in my bed in the morning my first liquid solution is 1 glass of lime/lemon splash (warm water + 1/2 fresh squeeze of lime or lemon + pinch of salt) this solution can wash your body fat residue and detox your body after your body had gone to 8 hours of long sleep and stomach is empty..


• Philippines
5 Jun 10
Coffee.... it's start my day...

• Philippines
4 Jun 10
Unlikely, I really hate hot drinks every morning. I'm the only one in the house hold who doesn't drink coffee. I really don't know why. Usually when I get up from bed, I would eat my breakfast with Ice cold water or Mt. Dew or Chocolate.