Did those on the Turkish Flotilla PLAN to fight Israeli troops?

United States
June 9, 2010 7:32pm CST
It is starting to look like the whole episode was carefully planned. Why would this one flotilla NOT allow itself to be checked like all other ships travelling through the blockade? How is it that these people were armed and eager to FIGHT armed Israeli troops? I'm sure many of you have seen the photo of a dead Israeli commando with a knife-wielding man standing over him (although Reuters edited out the knife). If you've watched the video, you saw the men on the boat rush to attack the Israelis. Now apparently there is evidence that approximately 40 operatives from the Turkish Islamist IHH organization carefully prepared a violent ambush. http://corner.nationalreview.com/post/?q=OWRhNTM1YzlhY2Y5MmY5MGNhZWM2YzI1NGM1MWI3YzE= What are your thoughts on this? Do you think this was planned not simply as an attack on Israel, but as an attack on their international reputation? Clearly their reputation has suffered heavily from this with people all over the world condemning them before the entire story is out, and journalists actively LYING and doctoring photos to change the appearance of what happened.
6 responses

• United States
10 Jun 10
so far as I know I think yes and yes. This has become such an awful situation. The info we get is questionable. from the get go, I thought Israel was set up, but that was just a feeling, now it seems I was right!

• Malaysia
10 Jun 10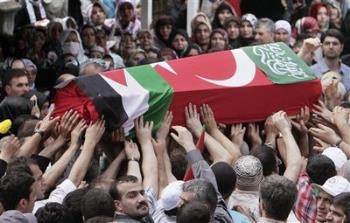 There numerous youtube footage showing the IDF isreal soldiers were ambushed or attack when came down from their helicopter.They were attacked with some kind of molative cocktail,beaten by metal rod,and shot with sling shot with pepples.Well,your need to give them credit for attacking armed isreal soldiers,just like they are willing to die as marty or injured hero. Some of the ship dudes also try to overthrown the soldier to the lower deck and try to kidnap maybe as human shield or hostage.Yup there are planning there.

• France
22 Jun 10
Those videos showing IDF israel soldiers were filmed on 2008, this is all just a cover up by Israel. Those boats were only full of foods and medicines, why should Israelis be on the defensive side. By the way, the Turks were on international water. Israelis didn't have the right to question whether they could go enter or not.

• United States
10 Jun 10
I think that they did because they probably knew that Israel is going to be on the offensive and defensive side right now. I think that deep down, Turkey might be looking for a fight with Israel.

• United States
11 Jun 10
Well, Turkey is doing the bang up job of making it look like they aren't trying to start a fight.

• Philippines
22 Jun 10
well i dont know the whole story but i find some things worrying about that incident. in one video i have seen people in the boat waiting for the soldiers to get to the boat to ambush them. i have seen gas mask, and some throwable weapons. Getting ready for a fight. there are a lot of reporters on the boat that i find it planned. (aljazeera) and in the israel side, its in international waters.

• United States
10 Jun 10
Yes, this was planned. Israel needs to step up it's response to these flotillas and start sinking those who do not follow the orders that they are given to put in for inspection. To make matters worse, the White House has been linked to these flotilla organizers. http://www.wnd.com/index.php?fa=PAGE.view&pageId=162377

• Boston, Massachusetts
10 Jun 10
IT all seems very convenient. They refuse to be checked, forcing the boarding of the ship where they happen to be ready to resist and cause a battle. But who is going to hear this information? The MSM didn't cover the story about the doctored photos, they certainly aren't going to bring up any of these inconvenient facts. Are there only a handful of people who will learn the truth or can we hope that enough people check alternative sources? It seems likely that the episode was planned, whether as an attack or as a way to turn world opinion against Israel. I wonder if the whole truth will ever be told or acknowledged.