My doggeh

11 responses

• Sweden
17 Nov 06
She does look like a German Shepard! Did you say miniature? Is she smaller than German shepard's usually are? Lovely little girls she is! Here's one of my dogs in a favourite pose!

• Sweden
17 Nov 06
Labrador is the word missing! He is a big boy - almost 80 centimetres high and 50 kilos!

•
17 Nov 06
Awwww hes so cute. Yep my puppys smaller. About a quarter of the size/weight of a normal German shepard

• United States
16 Nov 06

•
16 Nov 06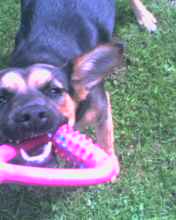 Ha Ha Ha I know there green!! But there actually brown. I have another photo were here eyes are blue 0.0 Coool. Heres another photo of her


• United States
16 Nov 06
She looks like a great dog. It looks like she's smiling for the camera.

•
16 Nov 06
Lol shes fabulous I love her. She was actually ready to bit me cos of the light on the camera ha ha ha

• United States
16 Nov 06
She is adorable!!!! I love her!!! :o) Is she full grown?

•
16 Nov 06
Hee Hee thanks, I'm not to sure. That photo makes her look massive but shes only a wee thing. Shes a miniature German Shepard, Cross with something else so I dunno about how big she'll get