cross stitch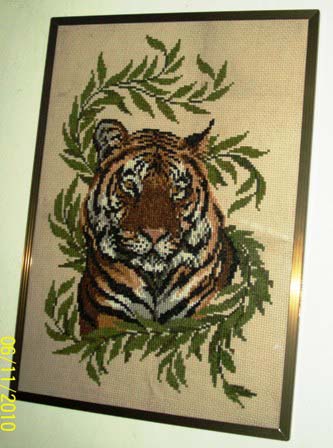 Philippines
June 13, 2010 4:50am CST
Hello mylotters.I have my masterpiece a cross stitch which I made in 12 years. I chosen this design Tiger because it was year 1998, year of the Tiger when I started doing this cross stitch. After giving birth to my first born son during my maternity leave. While my baby was falling asleep, I'm busy doing this stitching. Until I came back to my office for work, so I didn't got to finish it. And i never got a chance to work for my design during those years. Until my second and third baby came, that's the time again to sewed. But then again I didn't got to finish it. So after a long waiting of my masterpiece, I taught I wouldn't finish it all. So I kept it in my cabinet. huhuhu:( Then year 2007, while fixing and packing up our things because were moving out from other place, I then saw it again my masterpiece. So I brought it to my new house and continued to do the cross stitching, since my kids are grown up and I have more time to spent for stitching. So finally, I done my cross stitch year 2009. And it was only yesterday that my masterpiece was put into frame, at long last. That's why I'm so happy and proud to show to all my masterpiece, 12 years in making, hahaha :) How about you, did you ever got a chance to make a cross stitch? How long did you finish it?
4 responses

• United States
20 Jun 10
OH MY GOODNESS!!! How Beautiful!!! I am so glad I joined Mylot and found you My girlfriend in Canada is working on a 36 page cross stitch project right now entitled THE ACCOLADE. She got the kit and also bought me one from Golden Kite I am presently working on two pieces from Mystic Stitch myself I am disabled so I either cross stitch or knit depending on what I have to do for the day or where I have to go I can easily pack up my knitting and take with me to a drs appt. I take my cross stitch either to Paneras or a local Park that views the bay and sit and stitch also Bless you for getting that piece done it is indeed a MASTERPIECE and my hat goes off to you!

• Philippines
21 Jun 10
Wow, 36 pages cross stitch project! gosh I'm sure I gonna have a grandchildren before I finish that. :) Anyway, welcome to MyLOt and thank you for your comment. I hope you could also add images of your cross stitch.

• United States
19 Aug 10
HI I have not been feeling well so I tend to come in and out of mylot. I am presently knitting my baby granddaughter a blanket. I made her one when she was newborn and prefers granmama Marie's blanket over any other LOL so I am stuck knitting for the minute Anyway...here are a couple of sites for you to look at you might enjoy since you like cross stitching www.goldenkite.com This site has a lot of the historical paintings that they have obtained rights to turn them into cross stitch pieces but I am proud to own a few of their patterns via my friend getting them for me. But have not started one yet. also the other site is www.mysticstitch.com I am presently working on two pieces from that site and I will figure out how to put up pictures here so you can see my progress on one of them Anyway hope you enjoy the two sites as much as I do Marie

• Singapore
13 Jun 10
Hi godslove! I'm all awe and amazement! I commend you for your talent, your love and your perseverance for this beautiful art.


If you were to sell them what would be your most expensive price and the cheapest?

• Philippines
14 Jun 10
I can't think of a price worth for my art, it's a priceless! Next question please :)

• Philippines
17 Jun 10
Your always welcome! Happy Lotting!! :)

• United States
2 Sep 10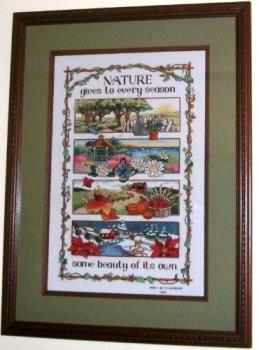 That is beautiful work godslove! And the fact that you finished it after all that time is remarkable! Good for you!! The longest one I worked on was 8 years but it was a really hard one and very detailed. At times I had to put it down and take time off from doing it because it was frustrating but I'd always go back to it and finally finished it. I call it the four seasons. Here's a picture of it if you'd like to see it.

• Philippines
2 Sep 10
Even it takes for 8 years to finished your art, it's still worth because it so beautiful.Very nice design.

• India
13 Jun 10
HI godslove, Your this cross stitch story send me into mine 1990...when I also made cross stitch scenery of owl a sitting on the tree, that was my school project so have to complete that , after that in next class, we again got project of making table mats of cross stitch so on that time I made doll on mats that was also completed as have to submit....but when we had the summer vacation on that to utilize the vacation I started one cross stitch table cloth, which is till yet not completed.

• Philippines
14 Jun 10
Good choice of design.. I'm sure before the next summer vacation comes you already have your table cloth (lol). Thanks for your comment.