Topless woman protest a march in Portland.!! Why can't some one STOP this show ?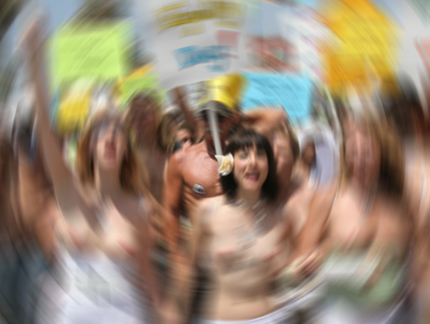 India
June 15, 2010 2:08am CST
Topless woman protest a march in Portland. That's the way it is ! I don't know for what they took the rally but the amazing thing is in the last it has took his way as a photography than as a rally. All the when who were had a nice time with there camera's wide open to take the photography. Even the one who took part in the rally too !! were impressive stills to give the photograph the best. While i was reading the articles online suddenly there is an article saying that the TOPLESS WOMEN MARCH HAD TURNED IN TO AN PHOTO SHOW !! Why can't some one take the action on these kind of Rally's !! Is that Right ! to do so !! ??????????????????????????? you can download from this the video.. http://bit.ly/ToplessWomen what Do you say about the video ?
6 responses

• India
15 Jun 10
no one will stop this show because they (women) are "topless" :):)

• India
15 Jun 10
crazy peoples, well what was the reson for these womans to protest in this manner?

• United States
15 Jun 10
No one is going to stop that show. The women probably don't even know what they're protesting, they just like the attention of creepy dudes.


• Philippines
15 Jun 10
Well, i guess it's a free country alright. If someone wants to streak then so be it. If that's what makes her happy.

• New Zealand
15 Jun 10
Because they're topless! Who wouldn't want to watch that?