So today Chile ,my country, had it´s first win at soccer!

Chile
June 16, 2010 9:31am CST
At South Africa, the soccer World Cup is being played. My country, Chile, played today for the first time and won the match. I´m elated! I have a tender spot in my heart for Chile´s soccer as my husband was a pro soccer player decades ago and also played for our national team. I still have a beautiful picture of all those boys then at the Moneda (our government house) with the president then: Eduardo Frei Montalva. Times have changed. Other people play now and some of my husband´s chums come once a year for a get together at my home around a barbecue. But all of them once wore the red shirt these boys are now wearing with pride. Do you have beautiful memories that deal with sports? Which spot? Share!

9 responses

• United States
16 Jun 10
gOOD FOR cHILE, I KNOW IT MADE U PROUD.U know ryan & his dad both played soccer , basketball, baseball & T. played football & i'm sure Ryan will to. Of course i am an avid Tennessee football & basketball fan. iT JUST GETS IN YOUR BLOOD WHEN YOUR KIDS or a family member ARE PLAYING. Hugs.

• Chile
17 Jun 10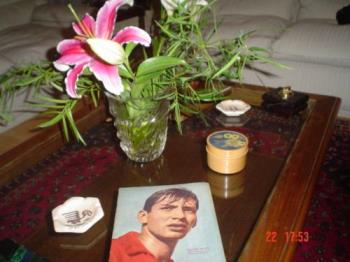 I didn´t know a thing about football (soccer) until I met my husband. But I had to learn some, for his sake.

. I would not have tried to make him choose between a soccer ball and me though.

Im posting a picture of him in the cover of a sport magazine in those days for you to see.


• United States
17 Jun 10
hE WAS A GOOD looking man, marg. I think u had posted this pic once before. The main thing y'all seem to have been so happy. I grew up around football. was in the band in high school & we had to play at all the games. Thanks for the picture. hugs.

• India
16 Jun 10
First of all it was good to see Chile win their first match and log 3 points on the board. With Swiss also winning today, it is going to be interesting situation. I think the winner of the Chile-Swiss match will qualify for the next round. Though if Chile can emulate the Swiss and also upset Spain, then it would be a brilliant result for them. Cheers! Ram

• Chile
17 Jun 10
It is a hard task, but we hope our boys will do their best! Today, of course, we are celebrating!


• United States
16 Jun 10
Congrads! I saw the last part of the match. It must be like Carnival in Chile Now! I have great memories of seeing my favorite hockey team win the Stanley Cup. But the one memory that remains is the time my NFL team one by 1 point. It came down to a field goal attempt and the other team missed the field goal. My Giants beat the Bills 20-19! I screamed so much I was hoarse!

• Chile
17 Jun 10
People here are in a sort of Carnival1

It was needed as many people are still living in difficult contitions after the earthquake. The flags and the shouts help a lot to overcome bad situations.

• United States
17 Jun 10
How wonderful! I'm so happy for you and all of Chile.

• Argentina
16 Jun 10
Congratulations for chili, have a great equipment and to a great forward, the bare suazo. Since I like South American that it fences in them well in the glass. For my great recollection it was Argentina champion of the world in méxico 86 and also the glass liberators of 2009 where my club worked out champion students of the silver.

• Chile
17 Jun 10
I saw Maradona playing years ago at a friendly match with Universidad de Chile. My husband had played in that club years ago and the club invited the old players as they were the best team Chile has had. Maradona was not young anymore but he could still be a whole show by himself. He was incredible! Let us hope our players do their best!


• Chile
17 Jun 10
Thanks! I hope Chile does well with Switzerland. It´s more difficult than Honduras. ¡Pero no hay enemigo chico!


• Shingle Springs, California
22 Jun 10
The US keeps tying. Congratulations Chile! Beautiful memories around sports? Just watching them, mostly figure skating. It was pretty awesome being at the World Championships last year and seeing the competition live, especially when our guy won!

• Philippines
17 Jun 10
I remember reading a book written by a 'soldier of fortune' that detailed how things stop, or perhaps unite, when a world cup is in progress. It's great that Chile is doing well so far! Thanks for sharing, Eric.

• United States
17 Jun 10
I am not from South America, so I really don't have much enthusiasm for soccer. I understood that most of my Spanish - speaking friends are soccer fanatics, and they play soccer into their heart seriously. I admire their love for this sport. For me, I was just like a bystander. I only watch this sports played by both teams, but I won't spend too much time to follow it. A friend of mine, who is from Hondura, I guess he was watching this game too. I guess his national team lost the match to yours. Well, a great game, and I wish that I was there to watch it too.

• Indonesia
16 Jun 10
honestly I'm classified as lazy man to sports. But, speak about the most beautiful memories of a sport, maybe I can tell how be proud me when Indonesia for the first time in an Olympic get reach medal of gold from badminton. Yes, although only got one gold medal, but for the next and last until the last Olympics, Indonesia is no longer just became a spectator state