Childhood buddies

United States
November 16, 2006 6:17pm CST
How many of you still keep in touch with old friends from your grade, junior high, high school years? I've managed to KIT with about 5-6 friends. We send emails and try to call every once in awhile. I actually found a lot of mine from MySpace and was so excited to touch base with them again....
7 responses


• United States
17 Nov 06
That's exactly what my best friend from high school and I do. We live in two different states so it makes it easier to KIT. We send each other cards, share photos of our kids, and email.

• United States
20 Nov 06
I have one childhood friend I've know since junior high, about 38 years now and I email her now and then and run into her once in awhile. My other oldest friend I have known for over 30 years and we are still tight. I have made new friends from different jobs I've had that I run in to as well.

• United States
20 Nov 06
I have one good friend who moved to Oregon, but we still write and call and ssend each other presents on our birthdays and Christmas. I want to go visit her some day.

• Vietnam
29 Nov 06
It's sad that I don't KIT with my old friends in grade school, but I KIT with my 2 friends in high school. We don't see each other much but we send e mail and sms. Actually I"m very excited to see them this coming christmas in philippines. because ,ost of the time I work out of the country.

• Philippines
18 Nov 06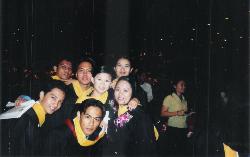 i've got 3 during high school days. but we seldomly meet because they are on our province. and i have about 5 during college days, we just sending messages on email or friendster

• United States
17 Nov 06
I've been out of school for 37 years now, and I've moved several times, so I've lost touch with everyone I went to school with. I corresponded with several during college and one for about 20 years, but eventually our correspondences just stopped. I've never been to a high school reunion. My graduating class of 600+ includes far to many people that I really didn't know.