Is the sound of Vuvuzela anoying?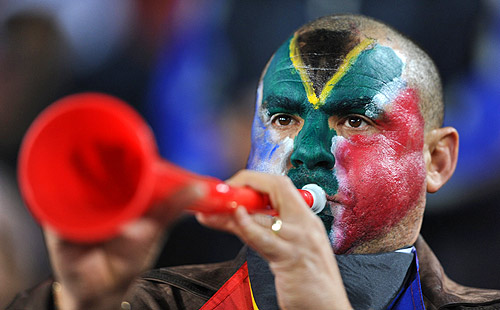 Romania
June 20, 2010 3:26am CST
So far the football World Championship in South Africa has come with only one thing new: the Vuvuzela sound. Why some might like or ignore this sound, some of us can't stand that noise and turn the sound off while watching the games. Not to mention that all the supporters can't sing and make themselves heard in the Vuvuzela noises. So what do you think about Vuvuzela?
7 responses

• India
21 Jun 10
i don't know why some peoples are shouting against vuvuzela .i like the voice of vuvuzela and if i were in south africa . i would surely buy one and go for the match

• Brazil
21 Jun 10
I had to comment your post because you are one of the few people who defend the Vuvuzelas :), here in Brazil (in the state where i live) is not forbidden to enter with those horns and when someone with a horn sit at your side (whar is very rare) it is really annoying, your ears seems will gonna explode. Anyway nice to see someone who like it :)

• Brazil
22 Jun 10
That is true, for good or bad, that WC will be historic. I was wondering if we will see the Vuvuzelas again in a World Cup in the future, maybe in another Cup in Africa, or will any country try to copy it, who knows?


• United States
21 Jun 10
I can't believe they let fans blow the Vuvuzela's during soccer games! It is crazy! The players can't hear anyhting else and that is the only sound you hear watching a game! I can't believe they aren't banned and do people even watch the game while they blow those horns? Those Vuvuzela horns even made it into a baseball stadium the other night! Baseball fans were blowing them and distracted the players! The players and umpires(I forgot which teams were playing) had to wear ear plugs! I think the horns and the fans who blow them have gone to fair! Time to ban those annoying things!

• Omagh, Northern Ireland
21 Jun 10
They're definitely an open air event thing...could you imagine them in a closed in arena,like at a basketball game?!.depending on how your team of preference is doing (Or did,depnding on how soon you come to this discussion!) in this world cup,it'll be a sound you'll remember,or never want to hear again!

•
20 Jun 10
I think that it is the most annoying thing that I have ever heard. It feels as if you are in a massive bee hive with thousands of bees buzzing around your head!! But what is worse for me my daughter has sent me a message to say that she has bought my 14 year old son one!!!

NOOOOOOOOOOOOOOOOOOOOOOOOO


• Omagh, Northern Ireland
21 Jun 10
I am just picturing you with earplugs in when he proudly insists on demonstrating it for You!


• Bulgaria
20 Jun 10
That sound is just terrible! This is not and can't be a football sound never! I don't know why FIFA don't want to forbid it but this their decision is wrong. If they ask the people, more than 80% will be against the Vuvuzela. The football is made for the fans and if the fans are getting angry while they on the stadium are...what will happen? The audience will gone. That's not good for the football. I wish the Vuvuzelas gone after this World Cup. I believe that the Brazilians won't admit it to their stadiums after 4 years. Let's see what will happen. :)

• Omagh, Northern Ireland
21 Jun 10
The sound of these things is a polarising subject..Those of us not at the event at least have the option of turning the sound down or off to avoid listening to that sound..I wonder what it must be like in the Stadium to be listening first hand

?! One of our local Papers here in Belfast,Northern Ireland decided to do a report on them over the past weekend,and brought some along to the city hall Gardens,a popular lunchtime gathering spot..they described startled pigeons flying off,and drawing a crowd keen to try them out!

• Brazil
21 Jun 10
It is really a annoying thing. I imagine whow tht sound is to the players and specially to the coachs when they try to pass some instructions to the players. When the players enter (in the begin of the match) and the Fifa song is played you can't hear anything only the Vuvuzelas. I don't understand why it is not forbiden.

• Omagh, Northern Ireland
21 Jun 10
Having been working so far during this tournament,I haven't been watching much of the action (or lack of it,depending on your viewpoint/team choice!)Fans have had various noisemaking options to cheer on their teams over the Years,from the whirling rattles to airhorns..I'm thinking the Vuvuzela just might be the last word on the subject...I wonder how distracting they are for the players?

• India
20 Jun 10
I actually have liked the sound of Vuvzela and the zest of the South African fans to keep blowing till the end of the match is amazing. But my wife really gets bugged everytime she hears that sound. :) In a way it works in my favor as then I get to see the match alone in peace in the TV room :) Cheers! Ram