Do you wear bi-focals to read or do you not need them ?Can people go without ?

United States
6 responses

• Spain
20 Jun 10
i wear contact lenses since i was 17 years old, i need them and i like them more than glasses, because i got tired of wearing them since i was a child

• United States
20 Jun 10
I see.. so you wore them since you were 17 years old. Do you ever go a day without them?

• Spain
20 Jun 10
well, i wear glasses when i'm at home, because if i used contacts 24 hrs a day my eyes would get dry and uncomfortable

• United States
20 Jun 10
Well...I meant.. do you ever go with any corrective lenses at all? meaning: no contacts, no glasses..nada.;)


• Philippines
21 Jun 10
Hi Littlefranciscan, I wear wear glasses everytime, while reading, doing chores even plain walking. It's disastrous if I don't wear them. I've had a number of freak accidents that either caused me to stumble down from a few steps of the stairs or just walking over a bump or crater on the road that I fail to see clearly. Before I was prescribed and started using glasses I used to read books, insert threads in a needle hole and differentiate beads sizes without a problem but now I can't read a word without my glasses and I had foregone my hobby of doing cross stitch projects. I would love to get rid of theses bifocals totally if only I can. They say wearing glasses is imminent when you reach the age of 40 and above. They call it presbyopia or the condition whereby the eye muscles become rigid so that the corneas are no longer elastic to function as it usually does when we are younger. I hope somebody discovers something that could stop ageing so that we never have to deal with age-related illnesses like blurring vision. Have a nice day!

• United States
24 Jun 10
Well aging is a natural human thing Even animals age..all living things do. There are procedures now to help correct vision problems, like lazer surgery. .Have you heard of this?

• Philippines
25 Jun 10
Hi again Littlefranciscan, Yes I believe this is what they usually call here in the Phils. as lasik surgery or is this an international name for that but I don't actually know what is done to the eyes. I've also heard of corneal transplants but I believe they only do this to totally damaged corneas. What I am sure is that they are truly expensive procedures that sadly I can't afford to have.

• United States
21 Jun 10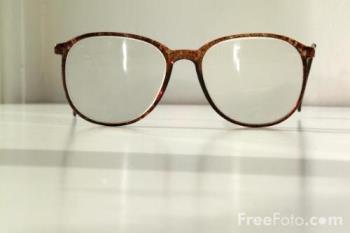 I pretty much have to read my glasses whenever I read anything. In fact, I have to wear then when I am awake and living my life. I am dreadfully nearsighted and thus, the glasses are absolutely necessary for me to function. I can get without my glasses for a short amount of time but after a while, I get headaches and it is hard to see. Therefore, my glasses are on at every time. I have not tried to read without glasses in years. I imagine that it would be hard to do so. My line of sight is not very good without my glasses. However, that is just the plight of being nearsighted. Still glasses are absolutely necessary for me to read and most people who have to wear them most likely should when they read.

• United States
24 Jun 10
Well I have learned the hard way ...that not wearing glasses when one should ends up costing you more when you finally decide to wear them..Stronger lenses ..means more money.. I tried to go without glasses..and this was not good.

•
20 Jun 10
I have always needed to wear glasses or contacts for short sightedness and I used to be able to read ok without any though in the last number of years I have got into the habit of keeping my contacts in all day for whatever I am doing which was a big mistake as now when I do read without them I find that I get headaches and occasionally the words start dancing as though I am tired. It seems that I have possibly hurt my eyes more by being lazy and not taking my contacts out to read - another trip to the opticians it seems!

• United States
20 Jun 10
My words use to dance ;) when I was playing the organ without glasses. The glasses really pulled the words into perspective.

•
1 Nov 10
I don't wear glasses. My father, his father and the one after him all did but me and my brother haven't. It seems we get our eyes from my mum who didn't need them until she became a diabetic. My mums father also worn glasses, so it's really interesting to see that neither me or my brother actually needed them.

• Spain
20 Jun 10
and i can't go a day without using any of them, since my vision is not that good