Have you ever seen/met friendly ghost?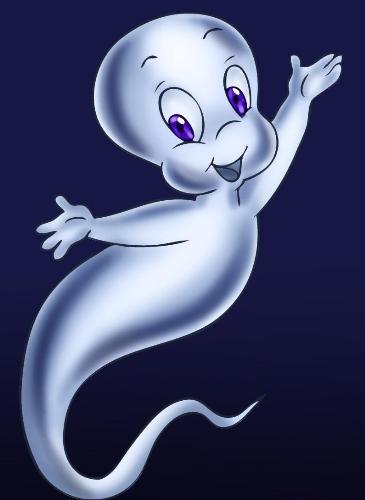 India
June 22, 2010 12:59pm CST
People who believe in God, must believe in ghost. Ghost is considered to be a "haunting" not friendly.People always have fear of ghost.It does not matter whether they believe in it or not.But many people have experienced friendly Spirit or Ghost or Angels in their life. I have also many bad haunting experience in my life but I still have not met or seen friendly ghost or spirit.What do you think ?
10 responses

• Malaysia
22 Jun 10
i've seen Casper.. he was quite friendly


• Philippines
26 Jun 10
I am watching Bio Life Channel and there is a certain program where celebrities share stories about their ghost experiences. I always watch that one. However in my existence I haven't met a friendly ghost and I don't want to meet a friendly ghost. I am afraid. When I was young my mother told me that a certain people wants to get me. My mother said that it was my imaginary friend. I was a baby during that time so I can't comprehend on here. I know that people have certain people that guide them, either spirit or ghost, I must admit it is more of a guardian angel.

• United States
25 Jun 10
Hi, Crazy_Poster. If I have met an friendly ghost, I was not sure that I have actually seen one. But, I know that I have encountered some really strange ghost experiences before. I don't want to ever run into a bad ghost. I will be truly frightened.


• Indonesia
24 Jun 10
Well i think there is no friendly ghost here, but what makes ghost look scary is because we are too afraid to look at them, that makes a ghost considered as haunting people, while maybe in the ghost "side" they sometimes wanna makes a communication with us, so it's a matter of feeling



• Philippines
23 Jun 10
I had an experiencing seeing a ghost one time but I can't consider her friendly because she scares everyone in the office. Sometimes I asked myself if I believe what I saw, maybe I was just hallucinating that time but why is it that it matches with my office mates description of her. Anyways, I do believe in God and I will just pray for their souls to rest.


• United States
22 Jun 10
I have never encountered any ghost or anything where I can visibly see. However, in just a second, I will tell you of the experiences I have encountered in the past. But, I will say this, ghosts are only real if you believe in them. If you believe, they will appear. I was over a friend's house one night.. just chilling. We were playing cards, listening to music and just having a good time. She told me she had put her ex boyfriend out finally because they had broke up and weren't getting along anymore. Since he was of Jamaican descent and his family practiced voodoo, she felt threatened by him and it was a long time before she even mustered up the courage to tell him she didn't want to be with him anymore. Anywho, she told me that she believed that when he left, he put a hex on her or something. I'm completely clueless to the voodoo lingo at this point, so I'm like, "What do you mean?" She said, "Listen..." I listened closely and very faintly, I heard footsteps coming from upstairs. Right then, I found that odd because we were the only two people in the house. So, jokingly, I said, "Your house is settling. Let's go see about this." Retreating upstairs, we checked every room, up under every bed, every closet and in every crevice and there were no hints of anyone being there with us. As soon as we hit the bottom step, we heard the footsteps, faint at first then loud as if we were being followed. It was the scariest thing I had ever experienced and I knew it wasn't a joke because she was equally terrified. I told her that I was sorry, but I had to go and I felt bad because I knew she couldn't leave with me because it was her house. She tried several things after that such as letting a pastor come and pray over her house along with rituals she had found online due to people experiencing the same thing as she was. Nothing worked. Only when she moved from that residence to another did it stop. And, many people said that she was lucky then that it hadn't followed her. That is solely why I always watch who I encounter and whom I let cross the threshold of my home!!!!

• Canada
22 Jun 10
Well i have never actually saw a ghost before but their is lots of cases where houses or towns were and still are haunted by spirit's of the next dimension.It is kind of creppy just to think about it really.I beleave ghosts exist, as they are the lost soals that have not found closure or not crossed over yet.

• Philippines
22 Jun 10
I've had neither. Can you tell about your haunting experiences?