Do you celebrate your dog's birthday?

Czech Republic
June 23, 2010 3:58am CST
Birthday cake for hairy Do you celebrate your dog's birthday? You should start.Birthday cake for your dog. It looks healthy,it will certainly taste better. Recipe for a birthday cake for dog. Ingredients: 1 pig's foot,1 pig's knuckle,rice, Treats for dogs from pet stores buffalo cubes, biscuits, crackers, dried sausage casings, fish, ears. The method of preparation: Pig's leg and knee Boil in a pressure cooker with little water without salt. Cold meat cut into cubes. Bring a plastic cake form and place chopped meat.Pour broth from themeat and let cool in refrigerator. According to the needs of the jelly can stir the cooked vegetables, cheese, etc. While cake is cooling, boil the rice.Blend the cooked rice. But you can decorate a cake and salami sliced into slivers or cheese. Happy birthday!
3 responses

• India
27 Jun 10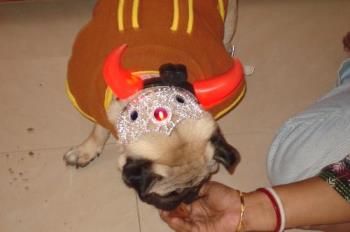 Welcome to mylot annina. This is the first time that I did not check before posting a discussion. I do not have a pet but just yesterday we did celebrate the 1st birthday of our neighbour's pet and we did get his a cake. He really enjoyed all the attention though. I am adding a snap of his birthday celebration.



• United Kingdom
25 Jun 10
I have got two dogs called Secret and Magic. Although I don't make a cake for their birthdays I take them out for days out to pleasant places. Secret's birthdasy is on 31st August and Magic's birthday is on 21st January. For example we go to the beach for a run around the sand junes. I always sing a tune of Happy Birthday to my dogs which I think are very special.