R.I.P. Edith Shain 06/23/2010!!!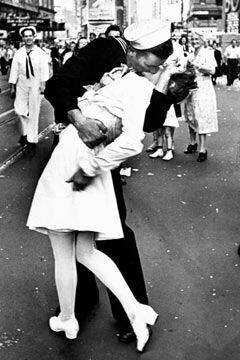 United States
June 23, 2010 6:18pm CST
Being the daughter of a World War II Veteran, I've seen this picture more than once!!! Edith kissed this Sailor in Times Square in celebration of V-J Day in 1945 (as captured by photographer Alfred Eisenstaedt & published in Life Magazine); but in the hearts of EVERY Soldier, Sailor, Marine & Airman out there, she had kissed them too!!!!

Sadly Edith passed away today at the age of 91. This is another reminder to honor our World War II Veterans BEFORE there are NONE left!!! We also tend to forget the women who served gallantly, but never heard thank you!!! This should also remind us to thank EVERY Vet on the face of the earth!!! They risk their lives daily in order to afford us the life we have today!!!

5 responses

• United States
24 Jun 10
It is funny that you should mention this now, especially about the part that women play in the military not only today but also in the past. They definitely seem to be forgotten, but we were reminded of their role over the weekend. We were taking a walk through the cemetery looking at the older gravestones, and we came across one for a young woman. She had a regular headstone, and then she had a military plaque for her brave service in World War II. She lost her life during the Battle at Normandy.


• United States
24 Jun 10
I had read about the nurses during WWII & how much they meant to the soldiers. It wasn't until my Dad had the opportunity to go on the Honor Flight that I had the realization of the number of women who had served on the lines. Of 100 vets taken to Washington DC from my area, 6 were female. Assuming this was a fair representation of the women who served quietly, a good number of women were in harms way with NO way to defend themselves as they weren't allowed to carry a weapon. A few have recently received awards for their service to our country, but I'm sure it was NO way near the number who sacrificed themselves to help defend our country. Before the few female vets left die, I hope they hear THANK YOU loud & clear!!!

• United States
2 Jul 10
I definitely have to agree with you here, LadyMarissa. My dad is a Vet as are a few other members of my family, and we have several family friends that have and/or are serving our country, and some of them are women. However, even today, many people only associate Vets and service of our country with men, and that not only saddens me but also is a great disservice to the women that have put their lives on the line in service of our country, especially (as you pointed out) when they had no way to defend themselves and yet they willingly put themselves in harms way to aide our country and our troops.

• United States
24 Jun 10
Thank you for sending this information. Women to fight for our country and they are not thought of soldiers and certainly not remembered. This woman, Edith who passed is to be thought of a hero in every heart in America. but, think about this...........I asked a teen ager the other day if he studied the Viet Nam war in school and he said, "what is that" ..........so our children don't realize what our troops do for us now or World War Two or any wars. I think our children should be taught about all wars and be made aware that not only men but women too fight for our rights and keep us free. GOD BLESS ALL TROOPS, YESTERDAYS AND NOW................MEN AND WOMEN ALIKE !

• United States
24 Jun 10
Boy did you say a mouth full!!! Do you realize that the children going into the first grade next year won't have a clue what the Gulf War was??? I agree that our children should be taught about ALL our wars including those only called conflicts!!! How are they to appreciate what they have if they don't understand what it took to get there??? During World War II the women weren't sent to fight in battle; however, many were on the front line along with the fighting men...but they weren't issued weapons!!! That had to be scary!!!!

• United States
24 Jun 10
Hi LadyM~ Oh how sad. I hadn't heard that yet. I do know that picture well! It reminded me of my Uncle Harry in his Navy uniform every time I saw it!lol And you are so right about us never forgetting all those Veterans that served us that are all gone now! I miss my Uncle Harry and Uncle Paul and this made me think about them even more. May they all RIP and God Bless them! And thank you Edith Shain for making all those Veterans smile just a little bit more!

• United States
24 Jun 10
It is sad that it was her time to go; however, her 15 minutes of fame has lasted for 65 years!!! I dread telling my Dad that she has passed as he loved that woman!!!!

Our veterans have offered their lives so we don't lose ours...what an unselfish SACRIFICE!!!!



• United States
24 Jun 10
Yes, this was one of the CLASSICS as it lived in the hearts of EVERY man who served & survived!!! We are losing a dozen WWII vets every day so they won't be around much longer.

I feel we owe the Middle East vets as much as we owe to WWII vets!!!!

And for Gods sake lets NOT forget the Vietnam & Korean Conflict vets!!!!
THANK YOU TO EVERY VETERAN STILL BREATHING!!!


• United States
23 Jun 10
The Greatest Generation is slowly leaving us. World War II is my favorite part of history to study. THANK YOU to all the American vetearans who fought in World War II, who fought in wars before and after and who are fighting now. THANK YOU!!

• United States
23 Jun 10
AMEN!!! We CANNOT thank them enough!!!! Coming from the South, we never made it past the Civil War; however, I learned a LOT from my Dad. As most are between 80-100 years of age, the World War II generation is no longer leaving us slowly. Soon we will be wishing they were still here so we could say THANK YOU!!!! I was at the local airport Friday evening & one flight that arrived was filled with young soldiers returning home from the Middle East. I stood at the bottom of the steps & shook hands with EVERY one of them & said THANK YOU!!! One young lad hugged me as he cried. If we say "thank you" a million ties a day, I don't think it would be enough!!!!