Christmas lights: Anybody hanging any?

United States
7 responses


• United States
17 Nov 06
Come on! Wouldn't you want to do that whole thing with the music? It would drive my neighbors crazy! It would be awesome! LOL

• United States
17 Nov 06
I'll throw up colored lights around the garage doors, the front door, and up the lamp post at my front door walk. When I was growing up everybody did the colored lights, hence the reason I still do. But now adays I'm a rare breed, everyone is doing the white.

• United States
18 Nov 06
I hate the plain white lights. Have you seen the pretty all blue lights? I wish they would sell all purple lights. :) Now that would be interesting! I also like the icicle lights? I still don't like the all white. I have a tree with lights built into it. But the lights are white. So I have to add more lights anyway because I like the color ones too. My partner tells me that it defeats the point of having lights built into the tree. But he just doesn't get the all white lights thing.

• United States
27 Nov 06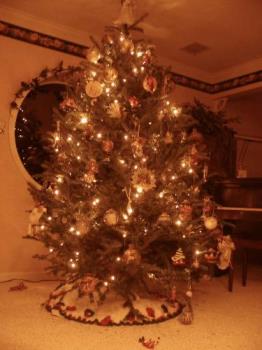 I put up my Christmas tree and it's all lit up. This year we put it up early for my daughter. She was so anxious to see her tree.

• United States
17 Nov 06
Of course, I am hanging up christmas lights though I don't have many places to put any since I live in a townhouse and don't have an trees to hang up lights on. I will decorate the front of my house however I can.

• United States
17 Dec 06
That's really cool! But I think I'd give myself a seizure watching all the time. I love the song too.

• United States
10 Dec 06
The only decorations that I have outside of my home are the light up candy canes in front of my house and my snowman measuring stick for snow which is also a welcome stick for people coming to my home. I looked at th website and thought it was neat but would not do that. I wonder what his electric bill looks like. LOL

• United States
10 Dec 06
i put a few up we are going to be going out of town for a few weeks soon

• Romania
27 Nov 06
Its beautiful but its just wasting time ... Sorry for my answer