Facebook has helped to remind us of so much!!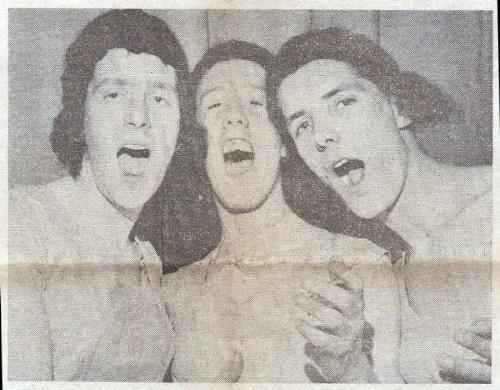 June 29, 2010 4:16am CST
I don't use Facebook anything like as much as I used to, I deleted all my applications as I was spending far too much time on there. But to me the one great thing about Facebook is the way that it can reunite family members who have drifted through both location;. Now most of our family members are on Facebook and many a day one of them has posted old photos on for us all to share - and usually laugh at!! The latest one, that humiliated my poor hubby - was a scanned photo from an old newspaper about 50 years ago - my husband and his two 9male) cousins were doing an act in a Scout Gang Show where they were miming to a Beverley Sister's record, and somehow his brother had found this picture and uploaded it onto Facebook for all to see!! My husband is the beauty on the right!!

Have you had any embarrassing photos put on Facebook of you?
4 responses

•
29 Jun 10
Good Morning! Yes, I have... it was very embarrassing... I had even forgot that the photo existed. It was of me sat in class with a group of friends, one of my other friends had taken it, and decided that she would TAG me on facebook... OMG the comments that I received, she thought it was highly amusing

. My brother also put one on there and again TAGGED me, it was a photo of the day I had Justin last January... and I was in a hospital bed... it was not one of the most glamorous pictures of me, and I did get him to take that one of, as I really did look bad lol

. I am the same as you though, I only use facebook now, to keep in touch with friends and family, and to hear what they are up to. I just have it running in the background, so I can flick on there and see. I like to comment on friends statuses but that is about all I do now, other than upload a few photo's. This time last year I was addicted to the games, and some other applications, but I was spending far too much of my time doing that, so I got rid of them, like yourself. (Now I spend most of my time here!

)


• Singapore
29 Jun 10
Hiya oldchem.. that's a nice photo for sure. I am starting to log into the lot often nowadays too... catching up on friends discussions and whatnot.. Old photos to be shared amongst friends and etc can be really fun.. in fact, it can reunite people together for old times sake. Good talking.


•
29 Jun 10
Hi Oldchem, I have been tagged in a few photos on Facebook where I wish I hadn't I like to chose my best picsto show but some of them show me worse for wear, no one really has any old photos of me, don't know what happened to my childhood ones and from then til about 20 years ago most were lost unfortunately in storage when I lost the house or in the flood I had about 10 years ago, can't replace but have the memories. I only go on FB now for my scrabble turns and an occassional catch up but do log in daily. Great pic of your hubby though lol. Huggles. Ellie:D

•
29 Jun 10
My mother put an awful one of me on when I got drunk at my 18th birthday - I could have shot her!!!