Almost Ready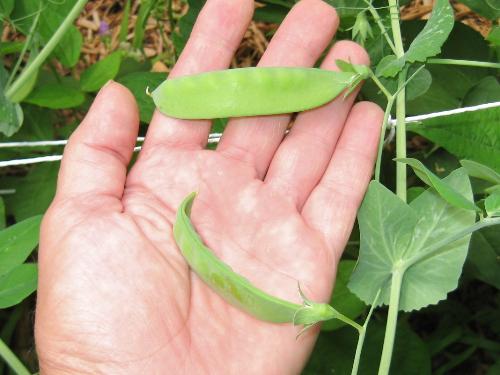 United States
June 29, 2010 2:41pm CST
This photo shows a couple of the pea pods in my garden. It won't be long before I am picking them and removing the peas from the pods for soups etc. My green beans are also just about ready after a few days of some serious heavy rain here in Minnesota. My garden just burst out in a big time growth spurt from the rain. How's things in your garden? HAPPY POSTINGS FROM GRANDPA BOB!!~
2 responses

• United States
30 Jun 10
I've been picking peas about every other day, but I didn't plant enough of them. Beans are starting to bloom; tomatoes are blooming but haven't set fruit yet. My squash are still small, no blooms yet. Okra and onions are coming along. I planted beets early this year and most of them didn't grow at all. I was disappointed because I love canned beets. Everything else is doing ok, but the lettuce is almost finished. It's been hot here this week. Oh.. spinach didn't make either, but I will use wild spinach (aka lambsquarter) instead.

• United States
30 Jun 10
That's my problem as well. I did not plant a lot. Next year I think I'll plant two packest of seeds. HAPPY POSTINGS FROM GRANDPA BOB!!~

• Garden Grove, California
30 Jun 10
hi Grandpa Bob You know I did suggest making a garden here for the residents to work in but the admins think that too many are not really capable of tending to a garden. I think they mean a lot of the people here are minus a few brain cells. thank God that's not my problem. Right now my roommate is exhibiting some signs of approaching Alzheimer disease. She went down to dinner and came up and an hour later scolded me for letting her sleep through dinner time. I had to work to convince her that she had gone down on time with me and had eaten. I hate to see this happening to her she is a likable person. an hour ago two ambulance personnel came up here and carted her off to the ER so I do not know what the doctor found when he talked to her today. It would have been more courteous for them to have told me what is going on seeing

she is my roommate. My son has now got a job so am hoping not to long form now I may be able to move into a two bedroom apartment with him again;we are both so happy he has a job again.