Crazy Promises Or....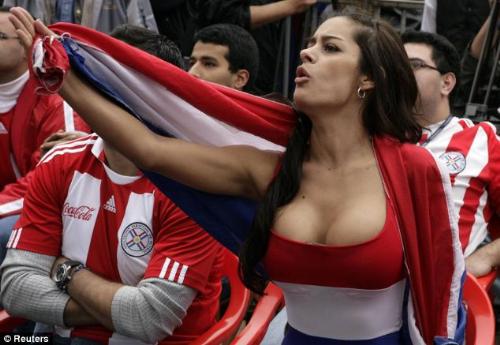 Singapore
June 30, 2010 3:21pm CST
Well, it appears Diego Maradona's vow to show more than just the hand of God if his team wins this year's World Cup - to run naked through the streets of Beunos Aires if Argentina is victorious, is being challenged! Paraguay's No 1 fan - lingerie model Larissa Riquelme - has agreed to match Maradona's pledge with a similar gambol around the capital Asuncion if her team come out on top. No wonder, Paraguay was so distracted for the whole 120 minutes!

Read more: http://www.dailymail.co.uk/news/worldnews/article-1290953/Lingerie-model-Larissa-Riquelme-promises-pose-naked-Paraguay-wins-World-Cup.html
8 responses

• Malaysia
1 Jul 10
Hahaha...

World Cup fever and promises! As the game is moving to its best, we shall wait and see. More crazy promises, 'true colors', and secret technic etc will be out. In Malaysia we have additional free copy of 'special edition' for World Cup from 'The Sun', Star, and Utusan newspaper. Howabout Singapore, what the fever like over there?

• Singapore
3 Jul 10
Iriene88, FIFA World Cup is always very entertaining and this being the 19th tournament is no exception. Well, as for us we do have the special edition from the major newspapers and there are also special posters from Adidas as well.

I will be attending watching the semis to the finals in Johannesburg and I am actually already packed to go.


• Malaysia
4 Jul 10
Wow, you are so blessed to watch 'live'the FIFA from semis to final! Tell me more about the real 'feel' and ambience over there once you are back. I hope your favourite team will win so it will be a very memorable experience for you. All the best and take care


• Malaysia
3 Jul 10
now i'm really hoping that Paraguay will pull of a stunning winner!



• Singapore
3 Jul 10
mario_stevens, If they do then the Paraguay people will have something more to gaze at in the victory parade.


• Brazil
1 Jul 10
lol, two words, Go Paraguay!!!!

• Singapore
3 Jul 10
rkamurugy, I don't suppose you will be flying to Asuncion, Paraguay to watch Miss Larissa Riquelme... or, you would.



• Philippines
1 Jul 10

well,at least the fans of both teams won't be fighting much for a while seeing a naked woman running across the stadium. distracted, imagine every male fan there drooling with their eyes big


• Israel
30 Jun 10
Haha, that is a funny story! Personally, I am still cheering for argentina though. But I guess it is a good thing I don't live in Buenos Aires, if you know what I mean!

• India
10 Jul 10
Looks like South America loves to run naked every time something good happens. I shudder to see Maradona running naked with his bulging torso and mini me hidden below. Of course, Larissa Riquelme would have needed FBI protection to come out unscathed if she had run around naked!! In India, recently actor Shahrukh Khan made such a statement that if his club KKR won the IPL, he would run naked in the streets of Kolkatta. Of course, they did not even qualify for the semis and we were spared the view of a naked Shahrukh!! Cheers! Ram

• India
9 Jul 10
Promises are easy to make, but achieving something is not that easier. If people make crazy promises we can't do anything except criticize if really something harmful or madness. People can make promises either when they are in good mood or have something in mind!!! As far I know Maradona is a real Argentine football fan. People won't misunderstand him but what about that so called lingerie model ?? People will make their eyes bigger to see clearly and enjoy the consumption of adrenalin. I don't think that lingerie model could keep her promise if her dream would come true. But the fact is Paraguay cannot be No.1 so easily. They have many competitors for achieve the top spot. Anyway I think both of them are in relief as they don't have to do those crazy things!!!

• Malaysia
9 Jul 10
howdy... 'good thing' i hold off responding to this post... becoz i was thinking that this must have been why both Argentina and Paraguay, didnt make it to the Finals - Crazy People Making Stupid Promises - many people must have 'prayed' that we dont get to see either of them run naked in public- and God must've answered our prayers...

if their teams were really, really that good.. no stupid promises, or stunts is required to ensure their places in the finals... ... GO HOLLAND !!...