Help needed! MP4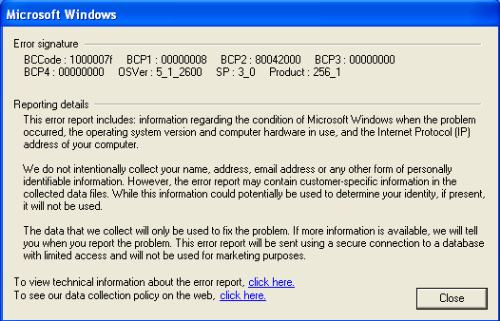 Slovenia
June 30, 2010 3:34pm CST
Hello mylotters i need your help. It isn't a very big problem because i solve 99.9% of problems on my own but i'd like to finally solve this one. Most of the time when i play an mp4 movie my pc just crashes and restarts. I have all the codecs i need(i think...xp codec pack) but still it crashes. Do you have any idea what the problem might be? I attached error message i get after reboot if anyone understands this things. Thanks in advance for your help

5 responses

• United States
2 Jul 10
Try the free vlc player and see if it will play mp4 without crashing. videolan.org/vlc/ I find it that sometimes you just need to have multiple video players. Then if one won't play it, the other one usually will. :D

• Philippines
30 Jun 10
I use an xp for my laptop and my phone camera saves videos as mp4 files and when I load them to my comp they play just fine. Maybe it's the player? I use realplayer as it allows me to download videos from the internet as well like from youtube, etc.. :D If you have a computer savvy friend, why not just ask him? Good day and happy MyLotting!! Hope your problem gets fixed!

• Slovenia
30 Jun 10
I think i have tried to play .mp4 with other players but don't remember the outcome. I'll try it with real player before i go to sleep because with the player i use computer restarted after 2 seconds. That way i'll know if it's the player or not. Thank you for idea


• Philippines
30 Jun 10
Oh? What player do you use? I'm not quite sure but when I tried using Windows Media Player, I think MP4 files don't work for it or it's just I don't have the driver for it, IDK... If real player doesn't work, you can use Quicktime... If you have an iPod, you don't have to download it since you already have it due to iTunes..


• Philippines
30 Jun 10
dude you might want to check if your system supports mp4 format if you have all the codecs and it crashes then that means your computer can not handle the load that happened on my netbook and the reason why i was not able to handle it was because i had windows as my os the netbook could not handle the load when i switched to linux... no problem so go to msconfig and check how many programs you have running in the background

• Slovenia
30 Jun 10
I went to msconfig and i have so many programs running i can't count them. In task manager i can see i that i don't use much cpu but i do have xp and guess it can't cope with mp4. Didn't know that can be the reason for crash i thought it was some kind of wired problem not that general. Thanks for your suggestion, maybe it's time for new pc after all.

• Philippines
30 Jun 10
ah dude mp4 runs on very little space or requirement i thinkk you have conflicting programs running in the background mp4 should play at all times as long as you have the necessary codecs

• Garden Grove, California
30 Jun 10
hi slovenc1 there are a ton of help for mp4 to computer just by typing in the words load myp 4 to computer in our mylot searchbar and be sure Web is highlighted. I just checked and you will see a ton 'of information and you would know at once which one will help your particular situation. go to mylot search to do it.




• United States
30 Jun 10
I saw this forum in the Internet. Hope this helps: http://www.techsupportforum.com/microsoft-support/windows-xp-support/266623-pc-randomly-restarts-itself-error-report-attached.html

• Slovenia
30 Jun 10
Thanks for the link i know most of the things and tried them already but problem remains. I have ccleaner as registry cleaner but i'll try another one to see if it helps. Do you know any sites where you can post error messages without having to register and so on?