Standing In The Aircraft!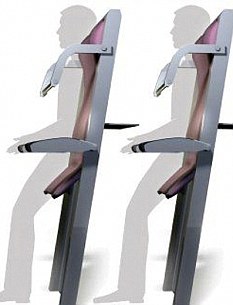 Singapore
July 1, 2010 6:37am CST
Call it what you will - Standing Seats or Ryanair Revolution, but I am the least amused here especially safety is concern. Without a doubt, the aircraft will be able to take up more passenger capacity, however, I wonder if passenger safety has been careful thought of and considered. Airlines like Ryanair may be taking the business to another level but as far as safety is concern - I think it is heading to the pits and to disastrous consequences if I may add here. I am certainly against it especially when the picture just look so precarious. What do you think? Ref: http://www.dailymail.co.uk/news/article-1291103/Ryanair-sell-standing-room-tickets-4--funded-charging-passengers-use-toilet.html
5 responses

• Malaysia
8 Jul 10
hello, no matter how 'cheap' the 'Standing Ticket' is going to be.. i am sure NOT going to buy it.. looks ridiculous, and TOTALLY unsafe... i really wonder if the authorities would ever allow it... i would like to buy cheap fares - but i would like to travel safe as well... -- but in the end - it is Safety First - so.. if i have to pay more to ensure the safety of my loved ones and myself, then - that's is the only way to go...

• Singapore
17 Aug 10
4mymak, I just wished that the people in Ryanair would have part of your EQ here with regards to safety. I think they are really in bad shape and that their books are being mere cover ups - I just cannot see beyond creativity for their desperate measures here.


• United States
2 Jul 10
Nope, I definitely don't think that this is something that I would go for at all. As it is, there are times that flying is very uncomfortable and if you were to take away the ability of people to sit down, then I don't think that there would be any enjoyment at all. I at least need to be able to sit down during takeoff and landing even if I would need to stand up during he rest of the flight. I'd rather pay more for a ticket than to be required to be standing through the flight.

• Singapore
3 Jul 10
dorannmwin, Ryanair has been making quite a few dubious and controversial business decisions for quite some time already like astronomical check-in baggage fees, check-in service charges and not forgetting the cabin toilet fee and I just cannot help having a hunch that it is having massive business problems at their end, behind the scenes. Now, they want to erect standing seats at the back portion of their flight cabins to increase capacity load and have more people travel at a lower fare. It is just both unethical in practice and unthinkable for safety. So, I'm with you on paying more for a sit down seat than standing through a flight and if I may add further - even for a half an hour flight, because no one can be assured that the plane will not fly into a bad weather or an air pocket turbulence.


• Malaysia
2 Jul 10
This is unbelievable. It is like we are moving backward instead. I totally agree with you. They should consider 'safety first'! Are they available in all flights, long haul too? I hope Air Asia do dot follow their footstep.

It will be cheaper no doubt, but I still think they should reconsider...

• Singapore
2 Jul 10
Iriene88, Well, this is certainly moving forward but I can assure you that it isn't towards life preservation, Irregardless of the duration of the flight, there is just no telling when an air turbulence will occur due to bad weather or air pockets where even seated passengers can come out with serious injuries. Now, this idiot wants people to "stand" inside the cabin!! Talking about brainless, we sure have a number 1 candidate here.

• Hong Kong
1 Jul 10
If it is safety, I will say take it easy. The authority is not going to approve it if they aren't absolutely certain that it is at least as safe as giving you a seat on the plane. If something does go wrong for this, it would be the authority but not the airline company that take most of the fire. So, they won't just approve it lightly.

• Singapore
2 Jul 10
faisai, Well, I can take it easy if you can assure me that a flight will not encounter air turbulence from bad weather or air pockets where even seated passengers can be thrown all the way up to the ceiling and come off with serious injuries. Now, try and picture it when you are standing and the first thing you will crash onto will be our dear overhead storage. I am sorry but I have to anticipate some fatalities here with these seats. Also, talking about approval based on safety, I think you will not be too pleased to know that the Russian made Tupolev jet airliners are still operating in the skies and I am not joking, of this experience I had with one of their off-duty airline pilot who actually refused to fly on his own airline he worked for because of the aircraft. If you are unconvinced then do look up on the recent air crash that killed President Lech Kaczynski and scores of other senior Polish figures in Smolensk. Let's not forget also, how an unlicensed aircraft was deployed into the air on a commercial flight which eventually crashed with a fatality rate of 200 over and it was not too long ago. So, my friend, I hope you will not be too fast in saying that things won't just be approved lightly when things are happening right beneath our noses.


• Malaysia
3 Jul 10
well..i am of the opinion that safety should never be compromised in any situation. even if they make those 'perches' safe for passengers, it would be down to the individual passenger's acceptance of traveling while standing like that.. looks kind of funny too..


• Singapore
3 Jul 10
mario_stevens, I do not know if you've seen sit down seats in the cabin coming off in some emergency landings which I have had the frightful experience of witnessing. I can assure you that these stand up seats will come off much more easily if they are actually implemented and installed. When it does happen then it will not only pose a danger to themselves but to other passengers as well. Honestly, I just could not see anything innovative or novelty here when safety standards are being compromised here. Take care.