If you could go backwards or forwards in time, where would you go?

United States
November 16, 2006 9:44pm CST
I would first go back to the days in the US before Columbus came....see the REAL country, before roads and tall buildings, where animals roamed free and you could see everything before places were stripped to build parking lots and big cities.
6 responses

• United States
17 Nov 06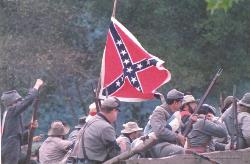 I would probably have to say that I'd go back to the Civil War era. I have studied and researched many things regarding what is considered "America's Darkest Period" There are many inconsistencies in the data we have, and I would like to see exactly how te battles took place, and just for once experience true courage in the face of battle.

• United States
17 Nov 06
wow, never thought of that one..and you're right..each side has their own version of the battles and the war...i'd like to do that too..so what side would you be on?...or just an independent observer?

• Egypt
29 Dec 06
Maybe Paris, France in the 30s, seems to be a fascinating time although I really prefer the present, any trip in time should be only temporary one, I would hate to be stuck in any other period or dimension lol

• United States
29 Dec 06
never thought about overseas..could be interesting..thanks for the response

• United States
17 Nov 06
i kinda like those days....depends what circumstances

• India
17 Nov 06
i would definitely go backwards

• United States
17 Nov 06
I'd go back a few years and do all those things that I keep telling myself that I should have done. The lesson is "carpe diem". I'd also go forward in time a bit just to see if myLot is still in business...not sure this site is really worth my time. Seems like a lot of garbage here.

• United States
17 Nov 06
I think we'd all go back and have some "do-overs"..I know I would..and yes, some things here may not be what you consider worthwhile, but then everyone and the different drummers, you know?

• United States
17 Nov 06
sorry if i seem uninformed, but could you tell me exactly what that is?