Surfing Internet is the best hobbies?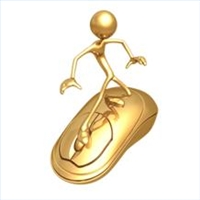 Philippines
July 6, 2010 12:51pm CST
what do you think? surfing internet is the best hobbies? i always used internet if feel bored and for me internet surfing is the best hobbies if you have no work, if you feel sad, and if you feel tired. im very happy if i used internet but sometimes im adicted to this. if i have schooling sometimes im late. hehehe

. how about do you think this is the best?
3 responses

• United States
6 Jul 10
hello whitestich For me, the internet is the greatest invention ever. I am disabled, and I don't get out a lot, so the internet amuses me, educates me, entertains me, and I can even shop and find all the information I need. My son laughed at me when he saw that I named my cumputer "The outside world", but it fits.

• Philippines
6 Jul 10
thank you for your comment. really you are disabled? but dont worry all person not perfect. well enjoy your surfing internet and always take care.

• United States
6 Jul 10
Yes, I am disabled. It's not a debilitating disability, but I have a bone infection that destroyed a lumbar vertabrae, so I can't stand very long or walk too far. Neither can I work, because, although the infection is in remission right now, it can be contagious. So, the internet is great for me.