For health reasons... Would you do it? Eat placenta?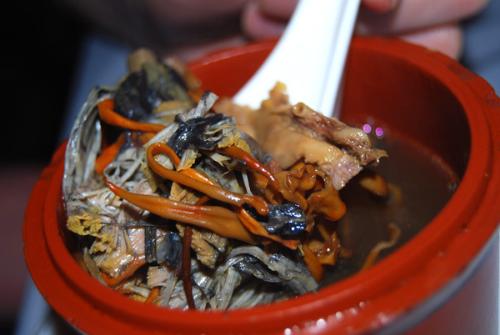 Singapore
July 10, 2010 12:19am CST
src: http://health.asiaone.com/Health/News/Story/A1Story20100709-226051.html New mums take placenta for youthfulness [i] Fri, Jul 09, 2010 The Star/Asia News Network A NUMBER of new mothers are turning to soup made of placenta in the belief that it will help them maintain their youthfulness and looks, said a Chinese sinseh. Known only as Sam, he said he had been getting orders for placenta, mostly from the Malay community. But now, women are using the placenta to make soup, believing that drinking it would boost their energy level and promote post-natal recovery, he told Harian Metro. "Besides drinking the soup for health reasons, some also leave the placenta to dry and use it in other food. They believe that this could balance their hormone levels and helps them bond with their child," Sam, who operates in Johor Baru, said. He said these women had assumed that consumption of the soup could bring them health benefits. "But they have to think of a possible risk of bacterial infection," he added. State Women, Family, Community and Health Committee chairman Dr Robia Kosai said consuming placenta was an unusual practice. She said, however, she had not received any complaints about it.[/i] I have heard of people using placenta in cosmetics. In some supplements even. But to boil it in soup is a first for me. Now the question is, what kind of planceta are they eating? Goats? Cows? or some other sources? Would you do it for health reasons?
6 responses

• United States
11 Jul 10
No placenta for me thank you..lol..I have heard that there are a lot of uses for placenta..there are the hair treatments and facial masks. Animals eat their own placenta to get the extra nutrition they need for feeding in the beginning but for me....I just don't think I have it on me to eat one...ewwww.

• Singapore
11 Jul 10
the consumption of placenta is a very common practice for the chinese. the traditional chinese medicine, zi che he (literally purple car river), is placenta. if my memory serves me right, the placenta used is usually from goats. however, there are also people who consume human placenta. it is known that the placenta helps new mothers regain their constitution faster than any other herbs. do you know who is cassandra see (the local actress)? she made public that she had asked her ob/gyn to keep the placenta when she gave birth and consumed it afterwards.



• Philippines
11 Jul 10
My mother bought a sheep placenta cram before, but it dried up before any of us would touch it. I think there's just something about it being the animal's womb makes it gross. Even if it had health benefits, no, I would not eat it!

• Philippines
10 Jul 10
i wouldnt eat placenta even if they tell me it will make me younger for 100 years. Because, placenta is the sac that wraps the baby while inside the mother's womb, what if there are transmissible diseases from the mother to the child and you would eat it, just to get a better appearance. Placenta extracts are said to make the skin look younger, firm and supple, I guess it will be better if it will just be applied topical and not meant to be eaten.

• United States
10 Jul 10
Years ago I read a book called "The Sparrow's Fall". It was about an Inuit who was tracking a caribou cow through the snow. This cow was pregnant and apparently in the throes of birth. The Inuit found blood on the snow and scooped it up to make blood soup. When he finally found the caribou, he also ate the placenta...but he was suffering from severe starvation. I don't know how severe starvation would effect me but I like to hope that I would be able to come to terms with my situation in time to save my life. Personally, blood and placenta are not items that I would ever care to ingest. In the articulate expression of my teenage daughter, "EEEEEWWWWW!!!"