Ever experienced hurricane?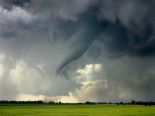 India
4 responses

• United States
5 Feb 07
I used to live in North Carolina, so I've been through many of the weaker ones. The strongest one I've been through (can't remember the name) left us without any electricity for 2 WEEKS.

• United States
5 Feb 07
I personally never have. I have been in Texas forever! We have tornadoes...no hurricanes (at least up here where i am in Texas). My husband was in Hurricane Katrina. He was about 20 miles from New Orleans when she hit. He said this was the most awesome thing he had ever seen. The winds were crazy and then afterward, the army and all down there...he couldn't go anywhere to call me to tell me he was ok. He is a pretty strong person and he told me he was pretty scared.

• United States
5 Feb 07
Growing up in Florida I remember a lot of hurricanes. The first one I remember though was Hurricane Fredrick, which considering some of the ones we've had lately was not that bad. I do remember going out to get my grandparents and my great-grandmother and my dad having to take a little john boat to get them out of the house because it was built down from the road so was already flooding by the time we got there. I remember all the mattresses being put in the hallway and sleeping there till it passed. We went out for a drive after it was over and there was one space where there was a big ship across the road. It made an impression on me because I think I was only 5 or 6 at the time. I'm used to Hurricanes, but I do respect them.

• India
17 Nov 06
no, not till now. However, small ones i have seen with sppeds upto 100 mph. Hopefuly, will not see greater ones.