Where we really happier way back when?

July 13, 2010 4:15am CST
I am guilty of it as I am sure most people of a certain age are - the old 'We were happier when I was a kid!' speech. It is a theory that people only
think
that they were happier in the past because they only remember the happier moments. Take the weather, I always remember my school summer holidays to be always be sunny and hot and playing out all day long but if I checked the weather records I doubt that this could be proved!! However I do really think that I was a happier (and generally healthier) child than today's children, despite no PSP, X Boxes etc - in fact probably because we DIDN'T have them!! Summer school holidays to me meant being able to play out on the streets and on nearby fields (in complete safety), to be able to take a pack of sandwiches and a bottle of water (from a tap - no posh mineral water then) and go with a group of friends ( with no adult supervision - shock - horror!)for a walk into the nearest countryside, it meant looking forward to one weeks holiday in North Wales (or if I was really really lucky going on the Isle of Man ferry for a wonderful holiday on that little island), it meant playing cowboys and indians with sticks for guns and no PC brigade saying it was wrong, it meant dressing up, making up little plays for our friends, camping out in the garden, and as I got older it meant going to local farms and earning a little money picking potatoes and peas. Now parents dread 'entertaining' their kids for the holidays and nearly bankrupt themselves with expensive foreign holidays and trips out - no I was certainly happier with my lot then!!

How about you??
6 responses

• United States
13 Jul 10
I never got to do anything when I was a child. My mother didn't drive, we had far neighbors and lived in the country, I was an only child. So summer days were spent home alone with my mom doing things together. I always hated going back to school in the fall and having to write about my summer vacation, listening to all the kids tell about going somewhere, all I could write about was growing things in the garden, the cat having kittens, visiting my aunt and grandma. When I had kids we were to busy paying bills to do much although we did get a few things in. I know my kids had it much better then I did. Now, I have grandkids. We go camping (leaving Friday for a week at our church campgrounds) we have gone places, I have a membership to a zoo and we go at least 2x's a year sometimes more. You are right about parents going bankrupt to entertain thier kids. Some parents have their feet on the ground and don't do all the expensive things. Then others act like if it isn't expensive it isn't worth doing. They will have a huge price to pay some day.

•
13 Jul 10
Hi Oldchem :) Your memories of childhood are very similar to my own! The sun always shone during the Summer hols, it did honestly! I can remember my arms and legs being nearly black, I tanned so much and sun cream was unheard of then.I spent some of my Summer hols with an aunt and my two cousins.We spent hours playing in the woods or cycling out to North Wales, the furthest we ever got was to Loggerheads.I also remember playing cowboys and Indians(have to admit I was a real tomboy when I was a kid:) I was always proud of the fact that I could outrun most of the lads I played with and the ones I couldn't, I could at least keep up with them! Like yourself, I've got some great memories of growing up and I don't envy the kids of today at all. even with their expensive foreign holidays!

•
14 Jul 10
Hi Oldchem :) Well, although we do live in Neston now, I was originally a Tranmere girl! Don't know if you knew Tranmere at all but I was brought up in Oriel Road.

•
14 Jul 10
Very close to where my Gran lived - she lived in Gorsefield Road - around the Singleton Avenue area, there was a park I think called the Arno (??) nearby. My Mum was actually from there before marrying and moving to Widnes - I spent loads of time there - New Brighton, West Kirkby, Hoylake, etc but I ALWAYS loved Park Gate - don't know why!!


•
17 Jul 10
I certainly feel that I was much happier as a kid than the kids that are younger than me today. They have all this technology around them, and yes, there are benefits, but I feel the potential harm they do far outweighs this. Staying indoors all the time on the computer or the Playstation, means they don't go out or move, much - which means they lack the exercise, lack the benefits of healthy blood circulation, oxygen, fresh air, and a lower production of endorphins, staying indoors all the time, there is a higher risk of depression, health problems, obesity...and the list goes on...I'm not against using the computer as I need to use it for a living too, but I just feel there needs to be more of a balance, more of a campaign to encourage and educate youngsters that they need to take breaks and to set a limit to the amount of time they spend on these consoles...

•
17 Jul 10
That is so true Bellapop, especially what you say about achieving a balance. I certainly wouldn't want to stop youngsters using computers as they are an integral part of life nowadays. In all honesty, I can't help thinking that if computers had been around when I was a kid,maybe my generation would have been just as keen on playing on the computer as the kids of today.In that sense, maybe it was a good thing for us that they weren't.Also, we were lucky as well that there wasn't anywhere near the same volume of traffic when I was growing up so it was a lot safer for us kids to play out on the street.

•
13 Jul 10
There was a show I think it was on Channel4 called "Never Did Me Any Harm" where modern families were taken back to their parent's lifestyles from the seventies, sixties and fifties to see how they did. All mod cons were taken out of the house, they were given the same kinds of toys their parents had and told to do the same kinds of activities. The family had to survive on the equivalent of the income back then and so on. It was quite interesting. Some families coped better than others - one even adopted a lot of the changes permanently because they'd learned that spending money on entertainment and "stuff" wasn't making them happy and they'd enjoyed making their own fun during the experiment. I enjoyed the seventies but the eighties weren't fun for me as a teenager. A lot of consumerism, peer pressure, greed (Thatcher's Britain!), self-centredness and the demand for instant gratification was starting to gain momentum then.

•
13 Jul 10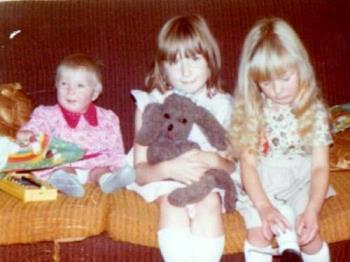 Of course I'm so much older(



)so it is the 50s and60s that I talk about, which granted were a lot different. My three older girls (picture included from 1977 - aged 6, 3 and 6 months!)grew up in the 70s and 80s and we had a couple of foreign holidays but they had a good time 'playing out' with their friends

• Canada
13 Jul 10
I think one of the reason we were 'happier' then was because we didn't know any better. Today, it seems like we are being bombarded with a lot of fears that is propagated more with advent of information technology. If you look hard enough, there is some sort of sickness or disease for everything you do in life, online. So, I guess ignorance is bliss... or was bliss.

• India
13 Jul 10
just keep work up to date . we have to be practical in our life . if want to do something we have to be if cry by thinking that i was good when child we will get nothing . our responsibilities changes as per as our age changes ... if you wont earn when your young then you have to work hard when your old at that time that become very hard. human being is never satisfy with what he/she had he/she want more thats called as the life ...