Do you remember your first dog?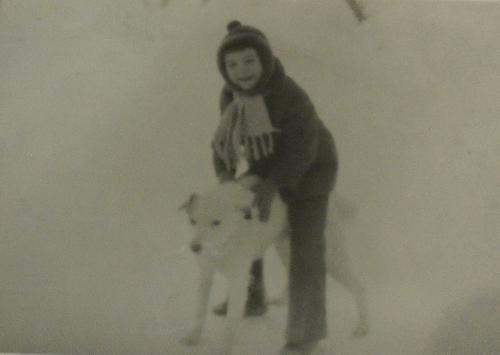 Romania
July 13, 2010 11:08am CST
Hello, dog lovers. For everyone there was a "first dog". Maybe our love for dogs comes from this particular dog. For me, Tzumpi will allways be a special character of my childhood. He wasn't my dog, he was my grandparents dog, but I loved him a lot. Our love was mutual, he was allways so glad to meet me. He used to follow me everywhere. He died when I was 9, and then I promise myself I will allways have a dog close to my heart. What about your first dog? Would you like to share memories of this special dog for you?
6 responses


• Canada
15 Jul 10
I remember my 1st dog . A Lab. Retriever named Duke, I couldn't say his name right , I called him Paduke, I was 2. I am not much older, I was born in the 50's I just lost my Big Boy, KOWLE. Just before that My Lil Girl Gheyske' , both Bouviers.

• Romania
15 Jul 10
Oh, I'm sorry to hear about your lost. I know how it feels when you loose a four legged friend. My beloved Nera passed away last December. Maybe now they play together in a happier place, where they don't suffer any more. Kowle, and Gheyske, and "Paduke", and Tzumpi...


• Brazil
13 Jul 10
Well, i still live with my first dog. I always want a dog when i was a kid, but never had one. When i grow up and start to live in a house it was one of the first things i did. She is really a lovely dog. Sometimes i wonder how will gonna be the things when she die, but i am sure i will gonna have more dogs.

• Philippines
13 Jul 10
Oh yes, I remember, when I was a child we used to have a dog named ewax. I don't remember her that much since I was a child back then. But I loved that dog that until now I could still remember her.

• Romania
13 Jul 10
It is true, as a child, you don't keep so many memories. Only the most important things remain in memory. And the first dog seems to be such an important thing for a child. I don't remember many things from that age, but if I close my eyes I can see how me and Tzumpi used to run together, play together, jump over the fences together, eat together...

• India
13 Jul 10
Yes my first dog named VICKY,it is very nice & cute,my mom also like vicky very much, he likes eating Roti along with me and enjoys walking in the evening alomg with me too.....i love my vicky so much..

• Romania
13 Jul 10
It is nice you still have your first dog with you. It seems to me that you and Vicky spend a lot of time together. I hope he eats from his own plate when you two eat Roti. lol I remember how I used to steal bread from my grandmother's kitchen to share it with Tzumpi. I was 6 and it didn't matter to me that we took bite after bite: me - one bite, Tzumpi - another bite, me - one bite...^_^