Thieves neighbors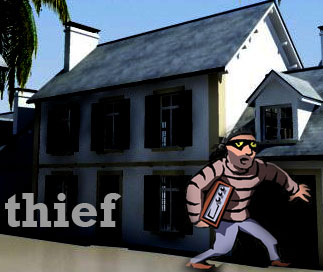 Philippines
July 15, 2010 12:38am CST
Do you experience having neighbors who can't be trusted because of their doings such as taking things that doesn't belong to them? I have many in our place that whenever my mother is not around he surrounds the house as if scavenging trash and and gets anything when no one is watching. Really cannot be trusted that's why we don't leave things outside the gate.
6 responses

• Philippines
15 Jul 10
Yes, she is not really a thief. She have this kind of sick, kleptomaniac. She don't need that but she can't stop herself getting things that not belong to her. We loss something we just look or ask her and there it is.

• Philippines
15 Jul 10
Our lot is big, thats why we put all the destroyed stock of our furniture warehouse there. Just last week our maid saw a man jump across the wall and took some of the furnitures. Some of the furnitures are still in their boxes and need to be assembled, so its easy to thrown them across the wall. This happen every 7am, for 3 days. Now we have dogs roaming the garden. We are also planning on adding few more inches on the wall and some barbwire. Our concern is not on the stuff they took but on our own security. What if they have knives o weapon on them. They might hurt us if they become more greedy.

• Philippines
15 Jul 10
yes,i have had a thief neighbor before.we usually had bad signals inside the house so that time my sister had placed her cellphone outside the house to get signal then after a few seconds she came back,wondering where her cellphone has gone through.then we realized it would be them cause they are the only ones who have access in our backdoors and the mother i think is kinda thief herself protecting her daughter who was the one who snatched our cellphone that time.such people!


• Philippines
15 Jul 10
Wow. They sure got the nerve. Why haven't you reported them to your locality? I think something should be done to minimize if not completely stop them from what they're doing. Did he manage to get something from your place? It's a really wise decision to keep everything inside. Times are getting tough, what we need is constant vigilance and courage to stop these people from doing what they do to get by.