Can someone tell me cool recipe for zucchini?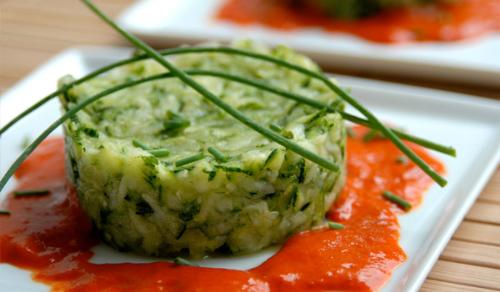 United States
3 responses

• Chile
19 Jul 10
Hi samaire and welcome to mylot!

How about zucchini sald (cooked and eaten with a dressing of a tiny biy of olive oil, lemn or vinegar, salt, pepper and dried oregano). How about a sort of no dough pizza. One layer of zucchini, one of onion, one of sweet peppers. then salt, pepper, cheese and oregano. Another such later and end with some parmesan cheese. Cover with aluminun foil and bake. Take out the foil 5 minutes before serving. How about a zucchini pudding. Cook them and strain them to get most of the water out. Fry onions with the usual yummy spices. Beat eggs and mix everything. I always put a top of parmesan ( I love zuccini and parmesan cheese). You can serve with a medium potato on the side and it´s a whole meal.

• United States
20 Jul 10
I will definately try these recipes! I loveparmesan too. Mostly i cook one recipe. I make it in the microwave. I put a layer of potatoes, layer zucchini, onion, fetta cheese, some garlic and i repeat this untill it's full. I put some salt, papper, savory (I'm not sure if this is the wright word. It's bulgarian spice called chubritsa)You can put oregano or basil. It's really tasty and healthy. You can put it in the oven instead in the microwave.

• United States
20 Jul 10
I don't know whether u will think this is cool or not but i like to take it. cut up tomatoes & onions in it, season it w/diet butter, salt, pepper & some sweetner & cook it down sort of low . It is real good w/peas, lima beans & other veggies.

•
20 Jul 10
In the UK we know zucchini as courgettes; one way that I love to use them is in a frittata - it is really easy and low fat so good for the diet. Grate your courgette (zucchini!)and chop an onion finely.. Whisk eggs with ta little water until light and fluffy. Season with salt and pepper. Turn the grill on to full power. Fry the onions and then put them with the grated courgettes into the frying pan (skillet)and cook for a couple of minutes until courgette is soft, pour on the egg mixture mix with a fork until it begins to set (like an omelette) then leave to cook gently for a few minutes. (keep the heat on medium to low so it does not burn the bottom of the frittata) and start to ease the frittata away from the edge of the pan. When the base look set but the frittata is still uncooked on the top, place it uner the hot grill until it is cooked through. This can be served hot or cold and is great for picnics or packed lunches