Strange Gaming Monitor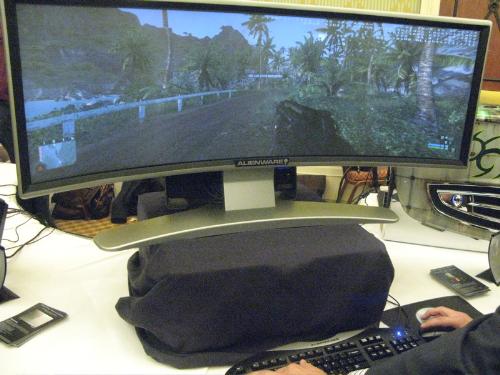 Finland
July 19, 2010 9:36pm CST
I was just randomly surfin the web for cool gaming monitors when I found this one: http://multimonitor.net/wp-content/uploads/2008/01/curved-display.jpg. It looks really strange, doesn't it? I wonder how the curves were done to it, since d
oesn't a monitor/screen/TV have to be flat?

It looks just awesome, and playing on it must be a dream. It's price is probably also something that I could reach in my dreams only though, so there's no point of making closer investigations on it... I will just get a 21,5", really good designed Full HD monitor, and it will be enough for me

I bet it would be really cool to play video games on a screen like that, or what do you say?

4 responses

• India
18 Jan 11
That sure looks awesome. But to get it for casual gaming would be such a waste. It is better suited to people who earn a living out of gaming say like the Game Testers can have and make productive use of such hi end tech products.

• Finland
18 Jan 11
True... Btw... This is an old post

Like... 1 year old or something

But that's okay


• United States
25 Mar 11
Very interesting indeed. This site mentions how you actually get worse as your screen size gets bigger above 24 inches so I wonder how that would work with a screen like that. http://www.squidoo.com/gaming-monitors


• Finland
20 Jul 10
Yeah, it is quite awesome. Technology is just moving so fast that soon we'll be able to teleport and use holograms

I am not sure how much it cost, but here's one article about it: http://www.engadget.com/2008/01/07/alienware-curved-display-rocks-crysis-at-2880-x-900/

[b]Oh, wait... I just found out it's site: http://www.alienware.com/, and the stuff there look quite pricey. I found only one screen there, but it too was quite a delight. I am starting to think of getting it and not my HP 2159m...


• Finland
20 Jul 10
I hadn't even heard about Alienware before now....


• Italy
23 Oct 10
eeheh yes thsi monitor is from alienware and so this fact did not surprise me in reality this brand normally designed amazing things for high end pc or gaming functions!!The monitor i think is really amazing to play games surely i wouldn't imagine how much can cost a monitor like that..but i think it would be so much expensive!!

• Finland
24 Oct 10
True, true...


This monitor is now pretty old, right?


• United States
26 Jun 11
This is cool, and thanks for checking out my site and youtube page man. I did the same for yours. (i think) Send me a link to anything you want me to check out.