Having A Whale Of A Time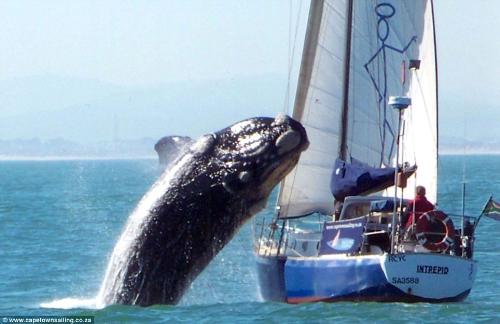 Singapore
July 21, 2010 10:41pm CST
In another Moby D!ck episode, real life and 2010 this time where a couple's yachting trip in Botswana, South Africa had an unexpected guest in the form of a 30ft-long, 40-ton right whale coming onto their deck, leaving a snapped steel mast, crushed coach roof and side rigging. Don't worry, the couple escaped unscathed and are still alive to tell the story. I am happy for it but I just cannot help thinking of some environmental issues. My concerns are, whether we are actually venturing too close to animal territory? Or, are we damaging so much environment that it has roached into their living and hunting spaces? I think it is about time we be more conscientious of our environment and if you have not started yet, then maybe it is time to take that first step forward today.

Read more: http://www.bbc.co.uk/news/world-africa-10712323
2 responses

• United States
22 Jul 10
Hey sky~ This is quite interesting and not the first time this week that I have read an article similar to this, only is was about occurances that have been happening here in the US. And it was believed that we are getting to close to the mating, feeding and hunting grounds of many of the whales, sharks, and other creatures of the ocean and are therefore disturbing them! Not far from where I live there have been increased shark sitings, black jelly fish stings because apparently they have had their mating grounds disturbed! So apparently along with global warming goes these types of changes and we are going to have to be more aware, we aren't going to be given a choice!

• United States
22 Jul 10
I never thought about the mating making an animal more vicious. I have a Chow that will attack almost anyone that gets near our Chihuahua when it comes to mating. You can easily see it when she is in heat because he starts breathing heavy, then he'll attack our weenie dog as well. Everyone knows don't get too close or he'll be upset. Good point.

• United States
22 Jul 10
I think I heard about this story in the news. I don't think the whale meant to do any harm, afterall it was a whale that was in its natural environment. This is not a trained whale that has been close up to people. I am amazed when people who visit a zoo want to get close up to animals that are dangerous. I wonder what they are thinking as they try to approach a bears or lion's cage? It's not as if they are trying to pet a dog or cat. When they get hurt they want to sue zoo officials from not keeping them protected but did they ever imagine how this animal would react? If I'm in the mountains and I see a mountain lion believe me I know to run. I am in his territory and he is on survival mode, and so am I because I am invading his land.