Who need philosophy?

Indonesia
7 responses

• Denmark
2 Dec 06
actually,philosophy is quite simple and logical..it's just analysing daily facts,thoughts,...life..questioning,trying to find answers,which most of the times can also be ambiguous but that's the whole purpose of it,to comment,not to find the best answer..philosophy it's not a fix science,it's not mathematics and this is the whole beauty of it..that you can comment upon things over and over again and all answers can be accepted ..as i said before,everythig is relative and i don't believe in a general truth..i think some of use philosophate here in mylot also,by giving personal opinions on a certain subject..i say some of us because most of us don't bother to think:)

• Indonesia
2 Dec 06
I absolutely agree with you..Philosophy is easy and we could find some enjoyments on it..Thinking is great and wonderful. It's our need. Yes, many philosophers at myLot:) Thanks for the opinion. I really appreciate it.

• Denmark
2 Dec 06
wow,i got the best response,made my heart jump for a moment..it makes me feel special in a certain way because my thoughts are appreciated:)..thanks,i hate when i give my sincere opinions and people just reply to me by'thanks for your response'..it makes me feel they don't even read,nor care about what i said so i don't feel like replying anymore

• Indonesia
2 Dec 06
You deserved to get the best response.. Who need a philosophy? You give the best answer.. Just keep posting your best responses. I really enjoy it..


• Slovenia
10 Mar 07
There you go... You're making a philosophy right now, when you're discussing the subbject. So it's not about the difficulty of philosophy. The hardest thing about the philosophy, if anything, would be how to avoid it. You're right; just thinking, wondering about stuff... You now, in the past the philosophy was what made the way for civilised society. It was about thinkig on how to make a bennefitial changes, so that humanity would be more understood. Yet, in nowadays, to be a phylosopher means to be a human who knows the way on how to make a change in it's own life but does nothing about it. It's a bit sarcastic thought, but it's true in a way. In the past the phylosophers were thought of as intelectualls, nowadays they're considered to be the laisiest of us all.

• Indonesia
11 Mar 07
You are right. Good analysis. I really agree with you. Many things changes now. I'm amazing about the people from Europe that still loves philosophy. You can see in this discussion, only the people from Europe that love it and knew about philosophy.

• Malaysia
2 Dec 06
philsophy means love and wisdom. its the study of truth and reality in search for wisdom.. it will find out their causes and all.. i dont think its easy for other than a philsopher who just keeps all this in mind other than normal guys out there

• Indonesia
2 Dec 06
Thanks for the definition and the opinion too..I think it's easy, but I don't mean everything in philosophy are easy..:) It would be easy if we love it and understand it..

• Japan
23 Nov 06
philosophy is based on logical thinking. and i think human's logic have limitation. like, when you touch the religion matters. that's why philosophy way of thinking can't accept religius way of thinking.

• Indonesia
23 Nov 06
In some points it's true. But many philosophers are still religious. Thanks for the opinion. I really appreciate it.


• Indonesia
23 Nov 06
Yup..it's true. It's difficult if we don't live on it and don't understand it. But if we live on it, it's our life.. Many ways we did wrong because we'd never thought about it before. I agree with you about loosing time. But, better loosing time first then loosing more time next.

• Greece
5 Mar 07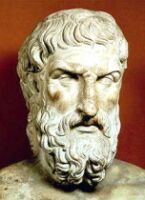 I don't think philosophy is difficult or only some people have the ability to do it.Of course you speak whit a person from Greece here......the center of Philosophers.The more of he best Philosophers they was from my country as I'm sure not only you know but you study some of them.So I'm not the more proper person to give opinion for if philosophy is difficult because we have it in our blood.Just make me sad sometimes to see this days more and more young people forget the meaning of philosophy.....

• Indonesia
6 Mar 07
Ups.. I think I met a philosopher here. I agree with you, when we learn philosophy, we must learn Greek Philosophy first. And of course, the word philosophy came from Greek Language too.. It's sad if young people at Greece forget the meaning of philosophy. By the way, I like Epicurus. Especially, his thought about enjoyment..

• Greece
6 Mar 07
A lot of +++++ from me just because you know who is Epicurus.He spend big part of his life for the search of causes of human infelicity.

• Indonesia
6 Mar 07
Ha..ha.. As I learned Greek Philosophy in my first year at Seminary. I'd learned from Thales and many Greek Philosophers. I think Epicurus was very unique. That's why I still remember him..


• Indonesia
17 Nov 06
Yes.. Who need it?! I think philosophy is only for philosopher. Who need a thinking? We need a reality.

• Indonesia
17 Nov 06
I really appreciate your opinion. We are all a philosopher. We think about life, about everydayness, and think many things. So we need philosophy. Thanks for the response.