Anyone Interested?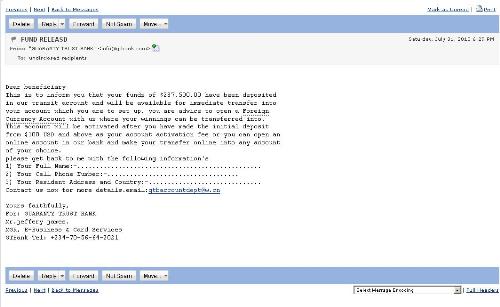 Malaysia
August 2, 2010 1:02am CST
Hi all mylotters! I received this email from anonymous. Check it out, as I put the email content in screenshot and upload it in this discussion. I wonder if this person send the email to majority of internet users around the world and how many percent of the users believe in the details he told. Even Guarantee seems like misspelled by the sender. So any of mylotters like to play around with this person? I kind of bored playing around with someone who sending these type of email to me and I got the mail inside my spam mail folder. So, what say you, mylotters? Want to have fun and tell me his responds in this discussion later? Refer the image I attach for the details.
2 responses

• Bhubaneswar, India
2 Aug 10
Hi cursoralbert I tried making out what this email meant. I had to zoom into it to read some lines. Its a spam and I too had recieved such emails on my email some months back. In today's world, beware of such emails. They can invite trouble. See what the First few lines tell you - this guy informs that you have some money (couldnt make out the amount but I think its a 6 digit figure and in PoundS?). Thats a lot of money. Now if you reply to this email for the sake of having fun, he is certain to reply you back. These transactions get stored on your email and other official places. This guy hasnt given you a name, but surely will if you correspond and also his location. All of this will continue and later he would ask you to start off by depositing some small amount for Processing his amount to you.... If you send this money, he will never reply back. To add to this, what if this guy is a terrorist and planning to send some money across via someone who falls into his trap? so as they say - "Look before you leap" and "Trust No-one" coz the stakes are too high!!!

• Malaysia
2 Aug 10
Nice advice. But I don't intend to respond seriously and in my past experiences of having fun responding towards these type of emails, I don't send any money to them and simply twisting around words to fool them. Once they gone rude, I threaten them to report their attitude to the law enforcer. Anyway, I just want to know and have mylotters sharing of their response here when contacting the person. In any way, responding without believing in what they said and simply for fun.

• Malaysia
3 Aug 10
Yup. Just that we not need to provide real names and address. In fact, simply by responding and make up reasons for them until they get mad. By the way, those emails sender who are trying to cheat us anyway. We should get mad at them, but not need to be mad as well since it's better that we play along without mentioning who we really are to them. Correct?



• Malaysia
2 Aug 10
Owh no. I thought the image uploaded in mylot can be viewed in separate tabs or windows to be viewed as how it really size of. With no edit function I guess the only way is to put it somewhere it's possible to be viewed. http://img806.imageshack.us/img806/7040/anonymouslyfrom.jpg Copy the link to your browser address and read the details. Have fun with responding to the anonymous!