Family values in new generation.....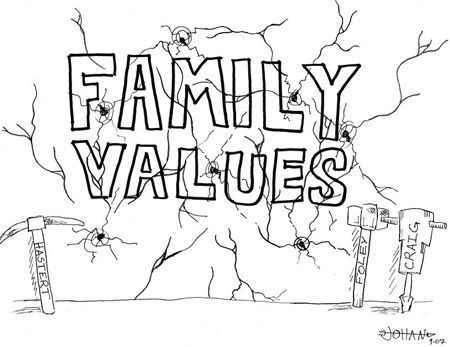 Kolkata, India
August 3, 2010 11:12pm CST
"Family Value" is the word,which seems to me is in the Que of extinction.Very few people understands this word properly,in this modern age everybody is running behind money,career,fame.Nobody has the time to think about their family.Some people would say that they are running behind money because they want to give their family a good life,but I would say that money is not important than your family,if you and your family moves together in all the good/bad moments in life,then you can be happy whether you earn less or more.I have seen some parents who cries to see their son/daughter for years,but their feelings doesn't affect their children working in some big shot companies.But i also seen that there are few people who sacrifices many good opportunities for their family. So,tell me friends what do you think about it do you respect "Family values" or you don't have time for this nonsense?????
4 responses

• United States
21 Jul 11
I was born in the 30's and grew up during the depression and WW2. Here we were taught the values of a family. To respect our parents. To respect our neighbors and all other people. My childres grew up in the 60's where values of a family were still important. I feel that today families forget about what was taught to them. They are so busy to spend time with thier chilren. They no longer know what their children are doing. I have read so many stories about the on line chat room and who stocks them that I do not want my Great Grand Children to spend that much time on a computer. I feel that the new social media is taking over the values of the family life now and children are more worried about their social media friends than they are about their family. Some children spend all their free time on the Internet now and this one is a shame.

• Philippines
1 Sep 10
I would agree with you that with all the things and all the stuffs you can buy people are running around like zombies everyday... doing the same things over and over again for the sake of money... riches... all for their family. Its a common thing, most probably a cliche already that we all do these, we work hard for money to be able to provide well to our family. Actually Gone are the days that the mom can only stay at home and take care of the kids, gone are the days that the family have all the weekends together, gone are the days when people can take a longer holidays and spend time with their kids, and see their children really get to know them... and not only by pictures! Ha ha you see nowadays, we even have work on holidays, and even have over times on weekends!

• China
4 Aug 10
I agree that keep all family members all live together is the happiest thing for me. But sometimes you need to consider several things and find the best solutions for them. I have a child and now considering his education, I live in the city and not together with my parents. They miss us very much but refuse to live together with. Because they think living togehter would lead the family to financial crisis. What I want to say is that all family members want the family to live together, but the reality always makes that impossible.