What is your favorite ways to enjoy life?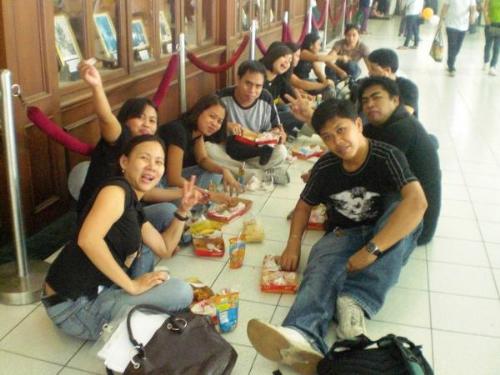 Philippines
August 4, 2010 3:28am CST
do you want to live a happy life? We all do. I'mnot sure if there are people out there that does not want to enjoy life. Some peope may think that they will only enjoy life if they have a lots of money or have a successful career. But that's not true. you can enjoy life where you are with what you already have. Let me share you first these tips as what my pastor like friend says essentials to live a happy life: First is to be grateful, if you dont learn to be grateful, you will always see things negatively. Second is to slow down. Life has lots of simple things you can enjoy. But if you are too fast you will overlook most of them. Here are few of my favorite ways to enjoy life. 1. Enjoying my meal - hmm i love to eat 2. Learn to cook - you can enjoy your food if you are the one who cook it LOL 3. Feel the music not just listen to it - i sometimes sing along with it 4. Gather with old friends and reminisce the happy moments you had before 5. I give myself a laze day 6. I watch movie and/or concerts 7. I play board games There are lots more ways to enjoy life. what's yours?
9 responses

• United States
5 Aug 10
I think we should try to enjoy life as much as possible. This is sometimes easier said than done because there are so many stressful event that happen. My favorite ways to enjoy life are the following: 1. I enjoy watching movies very much! I will watch almost any type of movie because I love them so much. They are a great way to forget life for a while. 2. I love to travel. Visiting new places, learning about the local culture, seeing beautiful sites, and trying new food are all such wonderful experiences. I wish I had more money! I would travel all over the world if I could. 3. I enjoy eating out at restaurants. 4. I love geocaching! It is so fun and good exercise. 5. I love getting massages and going to the spa. 6. I love spending time with my family. We have a lot of fun together. It makes me so happy to live in a household where we all respect each other and treat each other well.

• Pakistan
5 Aug 10
Yes, we can enjoy the life in any situation, with whatever we have or where ever we are. Just stop waiting for happy days. There is no day coming in your life ever without any big or small problem. Be happy with yourself. Someone has said: There are two ways to lead a happy and prosperous life: 1. Get/achieve whatever you like 2. Be happy with whatever you already have. Good luck.

• Philippines
5 Aug 10
Let me begin by saying that I choose to enjoy life...you gotta start here, otherwise, no matter how fun things are but if you're just inclined to be crabby, nothing's gonna come out of it. Spending time with the people I love and exchanging stories is always an enjoyable event for me. Learning new things also brings me a lot of joy. Oftentimes, the most trivial of activities are the surefire ways so I never take anything for granted, life is more beautiful when you have a grateful heart.

•
5 Aug 10
I enjoy life everyday, because everyday e live i a blessing from God and all of us sould alwAys appreciate everything God had given us. even the most implethings in life.

• Philippines
5 Aug 10
i am the type of person who wants to spread my wings and enjoy life by traveling.., and take pictures of places i've never been... i wish i could do that all the time but the budget will not allow me to do so..so i find ways to make life more enjoyable even i'm just inside the corners of my home... I enjoy eating...a lot...hahaha..watching movies... playing farmville and just listening to good music without doing anything can be enjoyable too...=)

• Thailand
4 Aug 10
- go picnic with my familys. - traveling. - stay at home and don't do anything. :D

• United States
4 Aug 10
I like a lot of the same things as you do. I enjoy eating really good food. I also enjoy just hanging out and talking with friends. I also enjoy cooking very much. I wish I had a little fairy that would clean up after me when I am done that way I could enjoy it more. I enjoy playing board games too, but I usually get to when my sister comes to visit because her and her husband enjoy them too. My husband could take them or leave them and most of our friends feel the same but I really like them. I also like being on my computer doing sites like this. I also really love to travel and see new places although our last vacation ended in disaster when our transmission fell out of our car. But I still enjoyed the trip and the get away.

• Philippines
4 Aug 10
There are lots of ways in which I enjoy life. getting tired from work when I go home I just want to eat and relax. I enjoy life if i have nothing to really worry about. I enjoy life if i can just sit and just relax and watch a movie either on my computer or Television. I enjoy cooking my own kind of dish and love eating. If i am with my family and enjoy a great bonding with them or be with my lover and have a great time with him. Go to the beach and enjoy the scenery and swimming without nothing to worry about but just to have fun. I enjoy when I am able to sleep safe and sound with a nice soft bed, warm and thick bed sheets against the cold air that the air conditioner blows, and be able to sleep at least 8 hours if there is no work the day after. I also enjoy life when I am able to cuddle my pets and play with them as well. These are the things that makes me enjoy life. It is just a simple way of how I enjoy it so most of the times I really enjoy life. That is why I really am a happy person.

• Philippines
4 Aug 10

who doesn't want a happy life? hehe i don't think anybody would want to live a life of misery. there's a great wisdom in what your pastor told you. being happy is how we perceive things we have and things around us, and learning to appreciate them as blessings... life's simple joys.

some of the basic ways i enjoy life are the following: - eating, drinking, sleeping and taking a bath. so basic but i really enjoy food. i love how refreshing a drink is especially cold alkaline water and fruit juices. sleep is a must just like regular rest is. and it's so relaxing and revitalizing after bath/shower... hehe my favorite scent. these are my basic pleasures. - loving, caring and laughing. i love the people in my life especially the ones who make me grow as a person. i feel, therefore i care. i love to laugh too! i'm learning to love myself more by caring about my health and my family's and enjoying more quality time to enjoy laughters and such. - affirmation. i appreciate the little blessings, the little pleasures, the little beauties, every little milestones and successes. taking vacations and well-deserved rest, learning new things and new ideas, travel etc. affirmation is not only appreciation but also rewarding ourselves and enjoying what we truly want and how we want it. life can be made enjoyable if and when we want to. it is our choice. even back when we have so little and now that we have a lot of blessings, we found ways to enjoy our lives in both circumstance and share more.