What could be wrong with my pictures I am uploading? PLEASE HELP ME!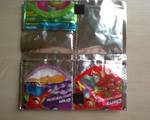 United States
August 4, 2010 9:47am CST
Here is a wallet I am uploading the picture is clear as all of them are when I took them. But,when I upload them to etsy.com they are all fuzzy and terrible. I am rotating them on picnik and the size I have not change but,I am wondering if this is the problem. Thanks http://www.etsy.com/listing/52990355/koolaid-bucket-pursecapri-sun This is one of the pictures. all of them are just about ruined some how.
4 responses

• United States
4 Aug 10
Have you ever had a problem with etsy before? I just use photobucket and my pictures always turn out great.

• United States
4 Aug 10
I was told that my pictures are to small for etsy. I change the size to 460 like they said and it still came out fuzzy. I am lost. Thanks

• United States
4 Aug 10
Yeah, sometimes when we enlarge pictures, the pixels are not good enough to keep it clear..How did you enlarge it? On paint?


• Philippines
5 Aug 10
AT first i thought it was just not yet finished loading and so i waited, Usually pictures need some time to load to look clear, but in this case, I'm not so sure. maybe you change the size of the picture bigger than the usual. that's why it gave you that pix-elated look. why don't you try to upload it in other sites and do the same thing. like photobucket or something, then if it's clear, then there's something wrong with etsy but if it's the same. it's the size of your picture probably.

• Lubbock, Texas
4 Aug 10
Etsy recommends that your pictures be at least 500X500 and says that 1000X1000 is ideal. The resolution may also be too low. I like mine to be at least 300ppi. I had a problem getting mine to load so that they were clear when I first started with Etsy too. Started looking at resolution and most of them were at 96 or so. When I take the pictures I try to get as close as I can so I don't have to crop the picture. It seems when I crop it the resolution drops, then I have a hard time getting a large, clear picture.