Let me tell you a little bit about the Flying Spaghetti Monster...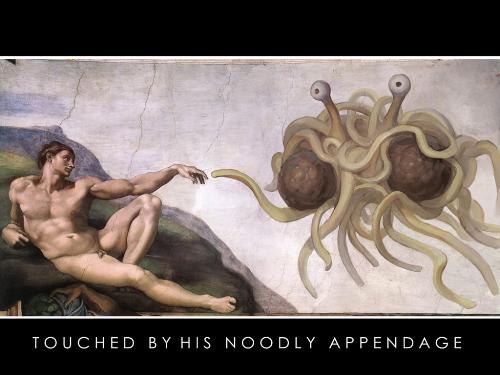 Canada
August 6, 2010 2:13pm CST
You see, this delicious being is the leader of the ever-growing Pastafarian religion. Although he is undetectable by humans, he is the true creator of the universe. The only problem is that the Flying Spaghetti Monster - FSM for short - created everything after a heavy night of drinking, which explains the many flaws of the earth. Other religions and evolution were created by FSM as a test of their faith to him. You see, pirates were the first Pastafarians to exist, and pirates were actually truly loving and compassionate explorers. It was the Christians and Hare Krishnas who labelled them as evil thieves. The pirates of today are not the same as Pirate Pastafarians of old, and global warming and all the other evils cursing humans today is actually due to the dwindling number of pirates since the 1800s. It has been proven that as the number of pirates decreased, global temperatures increased. If you believe in FSM, you will be graced to enter heaven when you die - a place with a beer volcano and a stripper factory. Reject the truth, and you end up in hell, where the beer is stale and the strippers have STDs. Will you submit to his noodly greatness? The choice is yours.
5 responses

• Canada
6 Aug 10
Hahahaha, I read about this before, because I heard it on a South Park episode, and I just had to figure out what was up with it. I think it is one of the funniest things I have ever heard of.

• Canada
6 Aug 10
I've seen every South Park episode there is, but don't recall them ever mentioning this! Do you happen to remember what episode it is? I'd really like to see it. And I agree, I love the concept of it and find it very amusing.

• Canada
6 Aug 10
It was in the "Go God Go" episode; part 1 or 2, I can't really remember which part though. The episodes where Cartman is in the future because of the Wii.

• Canada
6 Aug 10
I've seen those episodes a few times and still don't remember hearing it! I'll have to check it out again, thank you.


• Lancaster, New Hampshire
6 Aug 10
......should we be concerned about you?

Love it.....good reminder we shouldn't take ourselves too seriously all the time. I Imagine if pirates had stuck with this philosophy they might not have been corrupted and led astray from the principles of flyingpastadom and would not have lost the war with the ninjas. It was faith that lead ninja's to victory under the ever wise guidance of FSM. All hail the Noodly one!



•
6 Aug 10
No, please don't it is a subject of infinite boredom and tedium all the best urban

• Canada
6 Aug 10
His Noodliness is the ultimate truth. One day you may realize this. May you be forever touched by his noodly appendage.