Is life hectic for you?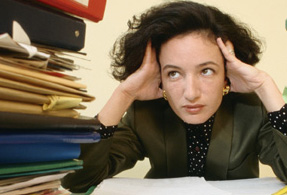 India
August 8, 2010 6:02am CST
Hello mylotters! I have created this discussion to learn the information around all over the world. You know that modern age is just robotic and each moment is working time. People have became robots who just do and think about working. Office people just got tensed for their upcoming work even in the house. People forget to enjoy the brevity of life and the lamented time. Work is the main aim in their life. In India people just get furious for work. My father who used to play at least 1 hour a day with me in my childhood had forgot the enjoy. Now he went to work at 7 am and return home in 10 pm. I even someday can't chat with him and someday I even can't see him. Is it what we call life?? I think a college student also suffer from the uncontrollably pressure of college exams. In India there are at least 2-3 exams per month in each science college. Life has became so disgusting that some students are having death penalty via suicide. Though I will never support suiciding but the only way to get freedom from the huge pressure of study is suicide in current age.

So, I have just a single question to all mylotters. Is life so hectic for you in current age? Thank you very much for sharing your thoughts!

8 responses

• United States
8 Aug 10
Life for me is constantly hectic though I am hoping to change that soon. Right now I am waking up at 4:30am to go work a full time job, get me and my two kids ready, drop them at the sitters, work, pick up kids, cook and clean, spend time with my husband and lucky to be in bed by 11pm at least 5 days a week. Life is rough right now.

• India
8 Aug 10
You and me is just on the same line. For both of us life is very hectic. I wish that people who are feeling that their life are hectic would get better soon. I wish a marry life for all the people around the world. Though we need to fight this hectic life with might. SO one thing to say - Enjoy the life as much as you can!!!

• Canada
8 Aug 10
sure is rough with so many of us going though this endless loop.A vacation is really the only temporary escape from this and is a real joy as you don't have to worry about getting up for work for a while.Without time off or a vacation im sure most of us would get very tired and go completely mad doing this over and other without some intermission inbetween

• India
9 Aug 10
Life is hectic when you make it hectic. Try to love your near ones and life will become so easy . Try to fight with difficulties and life will become easy. try to make more friends like me and life will become beautiful for you :)) I never feel life is hectic but the way of living it is difficult.

• Norway
8 Aug 10
I was raised to work all the time. Because of this, I can't relax unless I have something to be stressed about. :lol: Above a certain minimum living cost, I think you really need to figure out what is most important for you. If the job is what makes you happy; spend your time there and hire a housekeeper to take care of the house. If time with your kids is what makes you happy; don't work more than you have to. I know, a lot of places it is not as easy as this, but I often see people who try to choose everything; the best car, the biggest and cleanest house, the most exotic vacations and the most active and intelligent kids. If it is possible for you to make a choice, you need to choose what will make you happy in the long run. Sometimes that means being stressed out and unhappy for a couple of years. Draw yourself a goal, and keep your eyes on that. Then every exam will just be another step om the way towards the dream.

• India
10 Aug 10
I really appreciate your thought and response. Bu there are something which I might tell you - 1. Well I don't need a housekeeper as my parents(mother) is there for household work. 2. I am just 20 man! How can I get children!? 3. I actually don't really choose some extra luxury or big and excited with high cost things in my life. Enjoy the life and myLot!


• China
8 Aug 10
My life is not busy. But life sometimes makes me feel stressful even though I am still a student. I also have to take a part-time job to afford my living expenses and tuition.But I keep on my own dream and try to enjoy my life.

• United States
9 Aug 10
I understand the concept that life is short but when you live the hectic and stressful life I do it is difficult to appreciate the value of life. I have experienced a ton of issues and well although I am Blessed with life it is too difficult to see the beauty around me. I believe more and more people are in the same boat, as with the economic downturn it has become quite difficult for many to be truly happy.


• Philippines
9 Aug 10
Now that I am older, I have to say yes my life is hectic but it really depends on how you face life. I always thought life after school is better but now that I am in it, I think I would rather go back to being a student. But of course I love where I am right now, with what I have and the life I am living because there is nothing else I want to be but here. I believe God has placed us where we are right now for a reason. It may be to mold us to be a better person or to help out others while you learn from their lives. To everyone out there, look at life in a positive perspective because if you look at it negatively nothing will transpire from it. So live life with a smile.

• Philippines
9 Aug 10
yeah sometimes. As a mother of 3 kids and I don't have a maid in the house I do everything here. But still I think of it as fun doing the daily routine. Don't feel pressured, free to do this just budget your time and don't forget to add even one hour pleasure. For example, we ought to do this and that, but we have to alot even one hour to watch our favorite television program, or have a walk with our bestfriend or have a chat on the phone. we are the one who would decide what to do in our own time and let's not allow everything to put pressure on us. Have a nice day!

• Canada
8 Aug 10
Yeah getting up at 4:30 am everyday and returning at almost 4pm is a real stress.It really takes getting used to working that many hours in a day and having so little time to yourself to relax and cool of.It is really an unforgiving cycle of working and trying to find time to sleep and get other things done like pay bills or even do to the dentist or doctor.Many people fall into this cycle as they are forced to work 2 low end jobs just to be able to make rent , pay bills and feed them selfs. Its really a sad this that happens in modern society but it is unlikely to change due to the way that our society runs.