Why do we go camping again?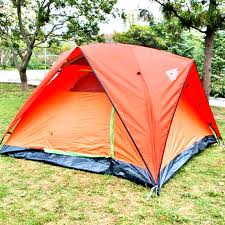 Canada
August 10, 2010 1:34pm CST
We've scheduled a couple of nights of camping with the kids this weekend, and I can't seem to get motivated to go. I can't seem to remember which part of it is fun. All I can remember is the being drenched on one night the last time we went because it rained. And the work cleaning up the tent the following day. I don't have the patience to do fishing anymore, so I can't help but think of the long day doing nothing and just hanging out. And to be 'un-plugged' without internet! The kids are excited because we are going with some friends who will also be bringing their kids. I think they are just glad that they can be as rowdy as they want and play all day, and not clean up too much mess. So, do you go camping? When was the last time you went? What motivates you to go?
8 responses

• United States
10 Aug 10
I have not been camping in a few years, as my husband and I haven't had the cash to purchase a pop-up, and I can't sleep on the ground with a bad back. I remember waking up with the birds, sitting by the lake and watching the sun come up, and feeling the fresh air on my skin. For me, most of the time, it's not about having something to do. It's about getting away from the house and relaxing around a bonfire or fishing, or kayaking/sailing, or even just finding a quiet spot to read a book. Camping is something I miss, a lot.

• Shingle Springs, California
18 Aug 10
I went week before last, first time in 5 years. It was really gorgeous and we had fun and it was a lot cheaper than staying in a motel. The 2 am bathroom runs (can't make it through the night lol) are never fun,though.

• Canada
18 Aug 10
I had one of those 2am-bathroom runs too! The bathroom near the park office was nice and clean, but it was obviously closed. The closest one was in a shack, which had a toilet bowl, but only a hole in the ground! Not much fun doing that at the wee hours.

• Shingle Springs, California
18 Aug 10
The bathrooms at this campground were nice, but we were really far from them.


• Philippines
11 Aug 10
It has been a long time since I went on a camping. Usually, what we do during rest day and weekends is spending an overnight in a beach resort. The kids are still too young for camping. My oldest is just 11 months old and the youngest is just 2 weeks old. However, I'd like to try camping out with the kids and friends. My idea of camping though is just doing it in a resort where someone could clean the mess for us after. It's very usual here in our city that people go camping near the seashore. We don't need to bring tents because we just need to rent from the resort. What usually motivates me to camp is the thought that I'd be spending it with very close friends and hubby. The kids can be taken care of by the Nanny. lolz.

• Canada
12 Aug 10
I wouldn't really call it camping if you're in a resort. As much as I would do the same, to be just in a resort, and have all the amenities, I wouldn't really call it 'roughing-it'. I think there are joys in just being with nature without the usual comforts. I just couldn't think of one right now, specially that we are on our way this weekend.

• Philippines
15 Aug 10
The last I had that type of camping was 12 years ago. lolz. I love it when I was a kid. Now that I'm the one who has kids I'm not sure I'd love it as much as I used to love it way back then. I'm not good in packing things for an overnight thing. Usually I bring too much clothes and other stuffs not really needed. Thinking also about the mess needed to be cleaned up after the camping is kind of discouraging.

• United States
11 Aug 10
Oh my! The worst of it all would be the being un-plugged from the internet, GASP! When my son was young, we camped at least a weekend a month, as we lived in south Florida. And, of course, plenty of rained on stay-in-the-tent days! The last time I went camping was in 1999 at my family reunion. Seventy six of us, camped out for ten days on my Aunt's five acres. And most of us brought our dogs, too! It was absolutely awesome! The wonder of it all will be held within for the rest of my life.

• Canada
11 Aug 10
Seventy six of you?! I wonder how the toilet arrangement was back then. Did you have to arrange traffic for people coming and going? Yes, the worst is being un-plugged. We've grown too dependent on technology that it's a bit uncomfortable if you try get away from it.


• United States
10 Aug 10
The last time I went camping I was a girl scout! And it did rain! it was fun But I do remember saying on the last hike that it Was the last hike. But I would love to go camping in the fall instead of the spring and this time in a cabin , not a tent. I'm 10 anymore, lol!

• United States
11 Aug 10
Oh Sh!T1 I forgot about the bathroom! Yes A cabin with it's own bathroom please!

• United States
13 Oct 10
Hi Bounce Personally I don't like anything about camping

I don't like the woods,creepy crawlies,I don't like fishing or hunting and when I go to sleep I want to sleep in a BED not a sleeping bag in a tent if I want to see the stars I'll go out on my deck and look at them ,I ain't pitchin no tent I ain't rubbing no sticks together to start a fire and I am definitely not going to the bathroom in the woods or wiping my butt with any leaves. When I get hungry I wanna eat...real food I ain't tryin to eat nothin I gotta KILL skin or gut

I am not a mountain lion so I don't feel the need to stalk or sneek up on my food. And I don't want any marshmellow smore's just give me a bag of M&M's and we can call it a night and finally I have seen way to many bear stories on TV associated with campers Now I may have a very old fashioned and outdated way of looking at camping I know techonology has come a long way but I have a coworker who told me thats how they go camping when they go they call it roughing it

• Canada
14 Oct 10
Hi Cherryd41. From the sound of your response, it looks like you're a city girl! I used to feel that way about camping. I also lived in a big city and I've always asked why leave the city when we could have all the amenities within reach. All it took for us was one invitation from a friend and the kids loved it. So we try to go at least once a year. I agree that camping is not my definition of roughing it. Hopefully this is just a phase for the kids. Thanks for the response.


• United States
12 Aug 10
When I was a teenager, I used to go camping all the time during the summer. However, since I was pregnant with my daughter, I haven't been camping at all. The first summer the reason was that the heat was so oppressive that I couldn't handle it. Then since the kids have been born we haven't taken the time to go camping because neither myself nor my husband really know how the children will react to it. My son is afraid of mosquitos and I don't think that we would be able to avoid them.

• Canada
14 Aug 10
Thanks for reminding me! One of the things that I would definitely bring, which I almost forgot, is bug spray. I'm sure there'll be mosquitoes around because I think there is a lake nearby. Maybe when your kids get a little bigger you'd venture out camping again. Don't forget the bug spray!