loner!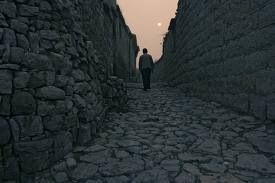 India
August 11, 2010 12:04pm CST
Hey friends Many of us have seen various loners and emo's. I really don't understand why they can't get well along with others. I mean we could talk it out but they as the word loner says would like to be left alone and just have time for no one else but themselves.

Why do you think they do that? Why do they want to be alone? Don't they know that friends multiply joys and divide sorrows? Why don't they mingle in the group? Please share!
6 responses

• United States
11 Aug 10
I think some people are like this because they don't think anyone will like them. I don't think it's because they don't want friends, I think they don't think their worthy of having friends in some cases. Some people are so insecure and unhappy with themselves that they can't get past the fact that people might like them if they gave someone a chance to get close to them. Another reason might be everyone in their lives have hurt them in the past so they think why bother, they will hurt me too.

• India
11 Aug 10
Yes. I guess you are right. They are afraid of losing that person that you are close too..

• Philippines
12 Aug 10
simply afraid of being rejected...because theyve been badly hurt in the past by painful experiences...

• India
12 Aug 10
you are correct ... but it depends on people to pepole .... some loner think that they are happy of being lonely.... and some due to ego.... the main thing which can make them a true person is medical treatment( psychiatrist treatment)

• Philippines
12 Aug 10
A lot of people say im a loner..but i'm most certainly not. They say it is so because I wanted to be alone but you see I have a lot of friends and i go out with them although just rarely but i know how to mingle with others. Maybe some people just like to be just by themselves, they just don't feel like being friendly to others, they don't want any companions and that people being close to them seem to be a distraction or an irritation in their part.

• United States
11 Aug 10
Well I don't know most of the time it's because they are scared to talk to people because they have had a bad experience in the past that prevents them from socializing it really is a sad thing to me. Well actually many people say I'm an emo and actually I have many friends and I tend to make new ones pretty easy I am shy at first, but hey I love to make new friends so why not. When ever I see a loner I usually go there and invite them to hang out with me and my friends.

I never like to see people alone it makes me sad and you know there probably thinking that nobody likes them, but at my school I make sure that nobody is alone. I once used to be a loner were I was scared to talk to people because of my past that caused me to be like that and because of acne I still have acne and I still have to live with my past, but now I decided that I should enjoy life more and just talk to anybody. Just to make there day.

People are all different you know if you see somebody alone it's not because they want to be alone it's just that they don't know how to approach people to talk to them maybe they suffer from social anxiety one never really knows. As for emos their very nice people their just misunderstood most of the time you know one should never judge a book by it's cover it's always best to get to know somebody first because they may in fact be one of the nicest person that you have ever met.