Official ID's with un-flattering pictures of you. Do you have one?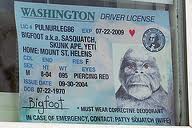 Canada
August 12, 2010 4:47pm CST
How come most official identification cards almost always have the most un-flattering image of yourself in them? I am just looking at my ID badge at work and I see there the ugliest picture of myself! I must have been sick on my first day of work, or the camera was a little off when they took my picture. If I look at my driver's license, I would see the 2nd-most ugliest picture of myself! It seems like most official cards, specially government issued ones only get the not-so-handsome or not-so beautiful pictures. Do you disagree? Does your beauty shine through even on these 'official ID cards'?
10 responses

• United States
19 Aug 10
HAHA, I have had horrible luck in the past with drivers licenses, permits, school IDs, high school IDs, and passports. Though, now, I'm pretty OK with my license, which I am always showing to buy cigs and to get into the casino and whatnot. lol. My smile is actually pretty legit, and while I was VERY fake-and-bake last summer when I got it, it looks alright. My passport picture.. is pretty hilarious. Wish I could post it up here. I had my hair this blond-ish color and teased (poofed for volume) and it had SO much VOLUME, it made my head look 10 times it's normal size. lol. no lie. Pretty interesting huh. Anyway, thanks for making my work go by so much faster (for posting all of these hilarious and good discussions). Haha. I owe ya one.

• Canada
24 Aug 10
I am left here trying to imagine your current profile pic with a 'blond-ish' hair with a head 10 times the normal size. It's hard to imagine!

Glad that you've already graduated from the horrible pics and have a nice looking driver's license.

Thanks and no problem!


• Israel
12 Aug 10
Oh yes! My passport picture is really awful as well, probably the ugliest pic ever taken of me. I cringe every time I see it.

• Canada
17 Aug 10
You shouldn't fret. As passports are only shown when you leave your country, and show it to immigration officials of other nationalities. I've already found out that one's definition of 'ugly' in one country doesn't really hold true in other countries. You might only think the picture is no good, but really beautiful to others. Thanks!

• Philippines
19 Aug 10
Hi bounce. This is a funny discussion. I can sooo relate. My ID with the ugliest picture of mine was taken when I was a freshman in the State University, (U.P.). Up until now, I feel humiliated whenever I stare at my ID picture. It was so unflattering. What's worse, I feel like I don't look like a student in the picture. I look like an old woman. Why, o why does these pictures exist? LOL.

•
15 Aug 10
on my drivers license i look like i've got really big starey eyes,i hate that picture,i get to change it this month as my license runs out in a couple of weeks,hopefully my next picture will be better

• United States
14 Aug 10

Good DISCUSSION Bounce!! Yep.I am the unfortuantae owner of one such government issued identification card. I look horrible. I have even had people say things to me about it-Since then I have gained about 30 pounds(gotta get a nerw one this year) and have changed a lot. Plu the picture itself is just bad. I think it is a conspiracy,too.They want to bring out the worst in people!!

• United States
13 Aug 10
Oh yeah, my driver's licence and my college ID are terrible because it was really hot, or they decided to use the first picture I ever took from my permit on my license, and I asked if I could have the picture changed, but that wasn't going to happen.

• Canada
18 Aug 10
Hey, why change something that is very original? Hehe, I know what you mean. I think my 2nd driver's license, after I renewed the first, had the exact same picture. Thankfully I got it changed with my current one, although I don't think it's any improvement. Thanks for responding.

• Philippines
13 Aug 10
well it was the photo taken for my school picture. my hair is everywhere, very sweaty and oily haha. I think most students photo's have a look of being lost and such haha.

• Canada
18 Aug 10
I think it is understandable for high school photos. It is so, because when people grow up and see their high school photos, it makes them realize that even though they looked like ugly ducklings before, they've grown into beautiful swans. I had the same ugly pictures in high school. I'm still waiting to become a beautiful swan...

• United States
13 Aug 10
Oh yes! I don't know why, but official ID does generally look horrid! I did have one that was great, my driver license when I lived in New Mexico. I was so mad when I had to give it up when I moved back home to Ohio. The worst was a work ID I had taken when I worked as a cook in a psyche facility. Scary! (The photo and the facility!)

• Canada
18 Aug 10
New Mexico, you say? I think I should pack up all my things and move there. Then I wouldn't have to deal with driver's license, which also looks 'horrid'. Some places of work just seem to have it in them to make their employees look scary. I am in one now.


• Garden Grove, California
13 Aug 10
hi bounce mysenior citizen MVD identification picture was so awful the camera made my white hair look yellow and I was asked to take off my glasses so I was squinting into the camera. totally ugly and not much like the way I look. My debit card picture is a bit better, my hair shows white and I had myglasses on too ; much more like the real me.

• United States
12 Aug 10
My drivers license photos have always been terrible. Actually there are very few photos of me that I like. I always say that I do not translate into two dimensions well. So amazingly one of the best photos of me ever taken was for a now expired passport. If I ever decide to get work done to look younger that is the photo I will show them.