ToneAdDAY payng ! Get paid for rating words ! (easy)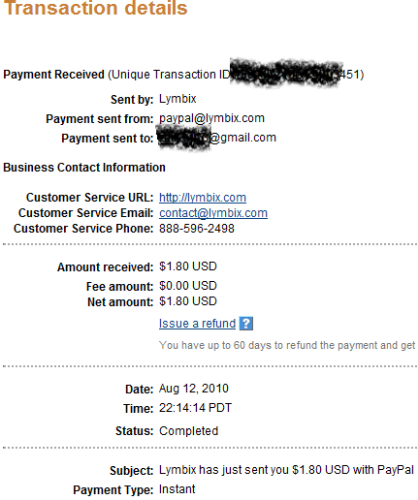 Israel
August 13, 2010 12:33am CST
Wow, yesterday i found a discussion about ToneADay and, regitered there. All i need to do is rate words by emotes. After 2 days (working maybe 10 minutes in each day) i earned 2.00. And got my payment !

P.S i got 1.80 of my 2.00 because you need to give at least 20 cents to charity.
4 responses

• Indonesia
16 Aug 10
Hey, I have finished my qualifying test in toneaday and earned $2. They said that they need to verify my account. Once my request is approved I will be able to redeem my earnings. They also said that it may take up to a week before my request is approved due to the high volume of user data being processed. I think this is long time waiting to be approved. I just want to know from you, how long have you waiting your payment?

• Indonesia
17 Aug 10
How many days actually you receive the message from toneaday after completing qualification test? I have been waiting 3 days now and don't receive it yet. Do I fail the test so they didn't send me the message? I have login to my account just now and found this: [i][b]Qualification Process [/b] You're ratings have been submitted to Lymbix Inc. and are currently being reviewed for quality. Our system needs to review the data (to safeguard against spammers) and validate users. After that, we need to submit, then process the funds through Paypal which can also take a little time. You should receive an email with further instructions once this process is complete. We'll get you rating again on ToneADay as soon as possible![/i] Is it mean that my request in progress?

• Israel
17 Aug 10
Well de_toya, i got the same message. And yes, it means you need to wait more time. Well i think i got the message in 2-3 days. But you know when everybody found out about this site, much more users are earning, and they need more time to do all thw work. Try to wait 2 days and then contact them, as i did after one day



• India
14 Aug 10
Congrats!!!!... hey can you please tell me what actually need to do on this to for earning ?

• India
15 Aug 10
Hi friend! Just signup in the site and start rating the words or phases by using emotions. After you had done 95 contributions you can ask for a cash out, only for qualifying level.For the next level you have to reach 75$ and the next 30$, then 20$ and 10$ and finally $4. That's it thank you

• Kolkata, India
13 Aug 10
I know your anticipation,I also received my $2 few days back,and I am on my way to my next $30 threshold now,I hope I am gonna reach that amount this weekend.Another thing I think you should know about is that people are saying,that they are taking too much time for the $30 payout,and someone is waiting for 2 weks now to get that money.Many people are getting rejected also,so I think to reach that amount you we should earn slowly there,and this will help us to kept away from the list of scammers.Lets see what happens in the future,hope they turn out well,as they have some awesome future plans,and if they are not scam,then we will get our money whether little late or not.

• India
15 Aug 10
Hi friend! I am too a member of that site. I got my second payment $27 too. I am to reach third payment. So you had found a really good site. But what I think is many people had started many discussions on ToneADay, so further discussions on ToneADay can be erased. Sorry for saying this. I too received this response in my discussion on toneaday which i started some one week before. Happy mylotting