China at goodwill

United States
August 13, 2010 5:53am CST
I was browsing a site a member of mylot gave us here about a year or two (if not three) ago and happened upon a china set with a similar pattern to a few pieces we have acquired. I would consider getting this set as it's only $5.00 starting off but as it's a bidding site I would be afraid it'd go up even more, and well it wouldn't be worth it, especially if I got excited about getting it and then got outbid. The location of the pieces is Nashville, TN. That is about 5 hours away from us, lol, though even if we were to get it we'd just have it shipped. Have you ever found something that would complete a set, or add to a set but didn't get it, even if it was a great deal?
7 responses

•
13 Aug 10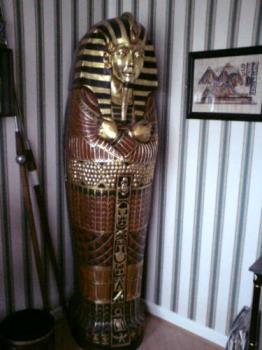 No, but I have had the reverse. I was selling a DVD cabinet- a smaller and simpler version of the one in the picture-which is 7' high. The one I was selling is close to 4'6". A lady wanted to buy it for her husband's birthday and paid £50, plus what turned out to be £30 postage. I packaged it well, but when it arrived it was damaged, and cost a further £30 to repair. A Parcel Force driver explained to her that items do get thrown around in their warehouse- despite it weighing nearly 40 Kilos. So she did not get the bargain that she had hoped for!


• United States
16 Aug 10
How much was the original price for it when you purchased it? did it end up to be about the same amount the woman had to spend? Here we have protective insurance for items being shipped. I am not sure all of what it covers though, do you have anything similar there?

•
17 Aug 10
Insurance on posted items is not automatic, it's generally at buyer's request. Most people do not opt to insure items because insurers are quick to identify mitigating conditions that preclude a claim. With package post it's not usually worth insuring anything with a value of less than £100. We had this item long enough to have forgotten the original value- but I doubt that she paid more for it than we did new. If anything it had some emotional value to us, but was sold to finance something more in keeping. Whatreally gets me is that their warehouse would throw around an item that weighed the same as an average 5-7year old!


• Jamaica
13 Aug 10
I had a beautiful china dinner set as a wedding gift. It is white with a blue and gold pattern but over the years many pieces are missing. I would love to replace and give to my daughter as a wedding gift too. The make is Royal Albert. I would love to have details and then then get the replacements for her. It had serving dishes and gravy boat and was an eight piece set with dinner plates, side plates and dessert plates. I should be so happy if you would kindly let me have more details.Oh, I have just re read - I cannot do the bidding thing. Do you know of anywhere where I could buy the replacements needed to my existing set?

• United States
16 Aug 10
I've seen some pieces on that site I was talking about that were blue and white I believe, no gold. I know you can not do the bidding thing, so I know that site won't work.. I am just mentioning I saw it to let you know Royal Albert seems like beautiful china. I did however find a website, if you scroll towards the bottom and look to the left on the list of links, you'll see "for sale by owner" and "looking for pieces" on the "for sale by owner" I see the third one down has a blue and white pattern with gold trim, not sure if that is what you are looking for. I hope the site helps, and at the very least leads you to find the replacement pieces. http://www.royalalbertpatterns.com/Index%20pages/For%20sale%20by%20owner.htm Hope that link works, it's the direct link to the for sale by owner page. My mother in law is going to give my husband and I some pieces of china when we move out, it won't be a complete set but well that's okay. What I'd really like is to find a complete set that we like that we can put on display, but I know that's not usually the norm. My grandmother has some nice fine china pieces as well, but I am more concerned with asking her for some nice dishes that were my great grandmother's. Ofcourse gotta ask mom and aunt if that's okay, the uncle's shouldn't care... Oh here I am babbling! lol!



• United States
15 Aug 10
Yes I think that is an option, and ofcourse if I ever find something on there I like and it has the buy now option, I'd most likely go ahead and buy the item. As is, with the china atleast, we're going to be given some when we move, and not only that but we've got enough dishware as is...

• United States
14 Aug 10
You can't tell what condition the china is in and stuff happens quite often in shipping. You should have your pieces appraised to see if it's even worth bidding on the rest.

• United States
15 Aug 10
You're right, one thing that's turning me off of bidding on china atleast is that you just don't know what condition it is in before it ships, and what condition it is in after it ships as even if a box says fragile, not everyone is going to be so observant, or so kind to be careful with a box. The pieces we have are in storage somewhere, I don't think they're "fine" china though pieces similar were under the category at the goodwill shop online. Either way if I ever see something like that again I may get the pieces we have appraised to see if it's worth it before buying.

• Boise, Idaho
13 Aug 10
I sure have. I have a collection of unique and unusual unicorns. I love the unique ones that don't look like the winged horse and have the tufts of hair by the joints and on the chin. These look more authentic to me. So when I find one of these I often want to get it but I usually don't. I rationalize that I can spend the money better elsewhere and usually I don't get the item.

• United States
16 Aug 10
I love horses and want to collect a bunch but they are so expensive. I believe there was one at the online goodwill store, but I didn't bother trying to get it because I know we don't need it, and there's no telling what condition it will arrive in, etc. Unicorns are beautiful creatures as well, and I love their majestic looks. My grandparents have a sand photo I've talked about before, it has a picture of a unicorn in it.

• Greenwood, Mississippi
13 Aug 10
Nah, I'm not shy of bidding. Sure it's disappointing if it goes outside your price range, but there'll be other opportunities in the future. If you don't even try, you're sure not to get the thing.

• United States
15 Aug 10
echomonster, Well you make a point if you don't try you MAY not get the thing. Ofcourse depending on how rare it is, you might could find it on another site with a cheap price and no need to bid. I just don't like disappointments, especially if I am eager to buy it.

• United States
13 Aug 10
Not that I can think of but,I know it would make me bid if I did. I would have a set amoutn I would not pay more than. Then I would bid like I do one ebay. I will bid my highest amount and leave the site and not go back. Just so I will not bid more. I have been winning many auctions this month.

• United States
15 Aug 10
Congrats on winning so many auctions. If I were to ever bid like that I would be sure to set an amount based on what I think the thing is worth, and I'd probably have to close the site out just so I wasn't tempted to bid more either.