Colorful Coleus plants - popular with gardeners and plant lovers across...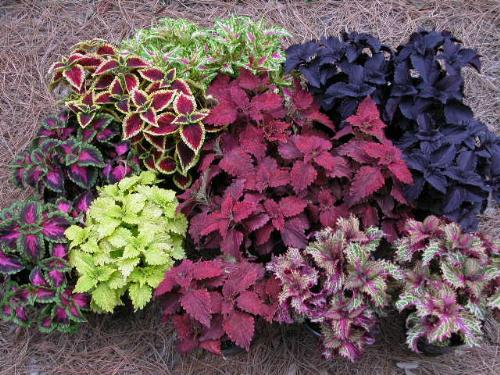 Mangalore, India
August 14, 2010 3:08am CST
Some plants are grown for their exquisite foliage in different colors and shapes , more than compensating for their non descriptive flowers and coleus ius one such plant Coleus is a genus of perennial plants, native to tropical Africa, Asia, Australia, the East Indies, the Malayasia, Thailand and the Philippines…Most of them are propagated for their attractive foliage - colorful variegated leaves, typically with sharp contrast between the colors; the leaves may be green, pink, yellow, or a deep blackish purple or maroon.The colors are glorious and eye catching brightening any drab patch of garden.There are boundless varieties of coleus plants that come in all colors shapes and sizes.Some of color combinations are bright and spell binding. There are more than 100 varieties of Coleus and they are all equally attractive and colorful.
2 responses

• Anantapur, India
15 Aug 10
hi kiran madam, i too like flowers and plants,but we does not have space to grow plants,because we are in first floor,in my view all these hobbies are for rich people only not for ordinary man like me,when i does not have other work for earning money,then i will see about plants especially " miniature plants" what is perennial plants,have a nice day




• Mangalore, India
15 Aug 10
Hi yugasini, that is not true, anyone can have a garden and grow a few plants.I am not rich either.You can have a couple of pots and grow some plants and then you will realise how easy it is to have a garden and plants of your own - all the best, hope you had a restful sunday


• Anantapur, India
15 Aug 10
hi kiran madam, thanks for the both responses,but there is no space and time for me to do gardening,you are housewife so you get leisure time,all my time will go in the shop or at the net in my house,i am forgetting to open the site mypage5 since yesterday,see my forget fullness,have a nice day


• United States
15 Aug 10
I left a comment on your photo, too. I really do enJOY coleus. It's such a colorful variety of plant and so easy to take cuttings for cultivating new plants, pretty hardy and easy to take care of, and it even blooms! When I lived in south Florida, I had beds and beds of coleus. By the way, I did get some cuttings of my hibiscus the other day, so hopefully they take!

• Mangalore, India
15 Aug 10
Hi abito, thanks a lot for your response

Yes , as you say coleus brightens up your garden . A single plant adds color , and I can imagine what beds of coleus would look like - a riot of color

. I too hope that your hibiscus plants take and start growing , all the best and have a great Sunday