What do you think of the Afghan?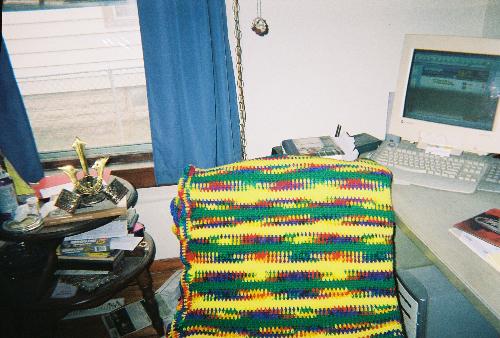 United States
August 15, 2010 7:18am CST
I made this for a charity to sell at a silent Aution. They sold it for $35.00 not to bad for a small town of 289 people. There was only like 30 people there but it was the first year. So I'm hoping this year will be better. Do you crochet and give it away?
5 responses

• United States
15 Aug 10
I do crochet....but usually don't give it away at this point. I have been crocheting bottle carriers for my craft sales. Last spring they went very well. Now I might do a winter project of crocheting together plastic bags into purses.

• United States
15 Aug 10
I've only crocheted to give it away. People are not usually interested in items unless the design is unique, cheap price, & for a baby. So I just make stuff for my kids and when someone is having a baby... and sadly I give it away.

• United States
16 Aug 10
Absolutly true! Yarn is not free, though I try to buy mine
@
next to nothing
@
rummage sales or thrift stores if I can. I had a blanket I worked on for 2-3 months & the lady I got the pattern from said she sells them for $60 dollars (seen it on Etsy for $100), no dice even at $40. It's not like it's a simple pattern but whatcha going to to do?

• Malaysia
15 Aug 10
Good crochet that you've made/patterned with blended colors of yellow and green. I've rated +ve to your uploaded image. Me/ No.....I don't know how to crochet although I knew what is crochet, crochet is a process of creating fabric from yarn or thread using a crochet hook. That's all I know for what is crochet all about. For your uniques title as a great question; "What do you think of the Afghan?". My answer is should there be no more war in Afghan.

• Philippines
22 Aug 10
That's nice...I like the fact that your project was able to help other people...As for me, I give my creations to friends and love ones as gifts...