Will India win against SL?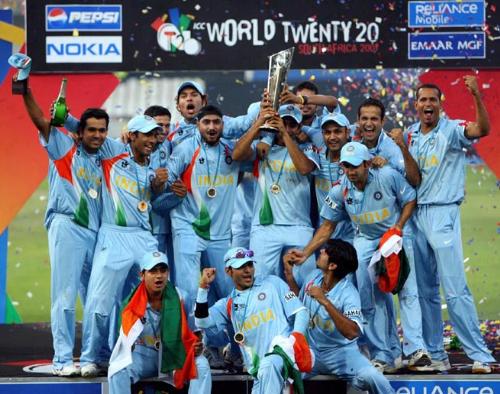 India
August 15, 2010 8:31am CST
15 August is over and now its time to show some fight on cricket field. After the 200 run loss against New Zealand, team India is ready to clash with the host Sri Lanka. They were 1-1 in the test series and now it will be interesting to see whether team India has forgotten its last defeat against NZ. Both teams look not very different from each other. India, in the absence of Master Blaster should play to their strength and look to attack more. Hope they come up with a gift just after the Independence day..
7 responses

• India
16 Aug 10
today india bowled well, so i think india will win the match today. only need to stay on the ground, dont throw away the wickets,that all.

• India
16 Aug 10
its was a realizing match after 15 August match winning or losing will depends upon good practice which will lead to success i think they had a good practice without fail obviously they will conform ly min the match


• India
16 Aug 10
let's hope for the best. right now the indian team is not in a very good form and that was prominent in the first test and also in the one day with new zealand. so i think it is high time the team thinks of something so that they can again start winning and get back to form.

• India
16 Aug 10
Like it has been very common with Indian team another poor start to a tournament, but i think they have capability to bounce back, even though many players are injured including Yuvraj who is integral part of limited overs Indian side.They hav e beaten Srilanka with more weak team than this in past ,in a series against them where Indian won 3-2 against Jayawardhane's team.I think big blow for India could be Nehra's absence as he is also not fully fit and weakness of Ishant in bowling yorkers consistently.India is pressurized after losing first game with bonus point, team is struggling with injury but who knows this inspires them to play their best cricket .It will be interesting to see if whether Dhoni loses or wins toss this time .

• United Arab Emirates
15 Aug 10
If india can win the Asia cup in Sri Lanka...I dont understand why they cant beat sri lanka now. They can do it and they will says my heart.

• India
15 Aug 10
Yuvraj is out with Dengue, Kartik is out with a injured finger. At this rate, I do not know if India will have 11 fit players for the match. If they do not have 11 fit players, then they cannot hope to win the match. I think the onus will again be on the batsmen to score heavily, but need to see how can come back after getting all out for 88!! Cheers! Ram