What is the one thing u would like to change abt urself?

India
November 17, 2006 6:29am CST
Many times one feels like making some changes in oneself..it can b anything looks, nature....
2 responses

• Pakistan
27 Nov 06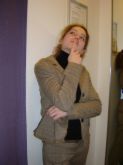 hmmmmmmmmmmm. What should i say??? I am thinking about going to beauty pollars regularly now-adays. I am teen ager and i think that i should take care of my face now. I do n't use beauty creams or tips but thinking about on this issue too.

• India
18 Nov 06
i dont want to change anything in me.. people loves me how i am.. if suppose.. i change myself any how.. and they stopped liking me.. then...??? the main thing... no one can change himself or herself.. it's circumstances. which force you to change yourself.. do you agree rani ji???