i need suggestions on which milk gives the best benefit for tiddler kids

Philippines
August 16, 2010 2:14am CST
Hi myLotters, I have a 4 yr old daughter and she's very active. Though she don't have the best appetite a mom would be happy with.. She is a picky eater and only usually likes chicken.. She is also a little thin though she's smart and active.. But as a mom, I want her to have plumper body than she has right now.. She takes 2 glasses of milk everyday with meals, and takes vitamins everyday.. I tried changing her milk but the ones I tried doesn't give any better effect.. I want to know if there is any milk with more fat content than any other commercially available milk.. Please suggest any milk that is best for toddlers like my daughter who is a picky eater and a very active kid.
6 responses

• Philippines
18 Aug 10
It is not in the milk. My husband and I buy cheap milk for our kids. We give them fruits instead of buying those expensive milk. They are picky with vegetables so we let them eat as much fruits as they want. We also let them drink coconut water everyday, which is really healthy.

•
17 Aug 10
hi!i saw in your profile that we are both here in the phiLs. so i can suggest a miLk formuLa that wouLd be avaiLabLe in the supermarket near you!im giving my s0n "LACTUM MILK FORMULA" that is suitable for his age..and suitabLe f0r picky eaters that is very usual for their age..because LACTUM is really complete with all the vitamins and nutrients he needs for his age..regardless if he doesnt get all the foods he need f0r the day!also try giving her PEDIAFORTAN FORTE as a vitamins for her..its not that expensive but the effects are great and visible..i also rec0mmend it to others wh0 keep on asking "what d0 you give your son t0 have a buiLt like that?" ..if you're well off..try "MOSEGOR VITA" .its a supplement and weight b00ster..its alSo effective..jUst a little expenSive!h0pe you will try my sUggestions and h0pe to hear fr0m you!by the way..all these vitamins are pRescribed by my s0n's pediatrican!stay heaLthy!

• Philippines
17 Aug 10
Hi yakuyaku.. Nice thing to know that I had a suggestion from the Philippines.. Is Lactum Milk Formula suitable for 4 years of age? Right now my kid's milk in Nido and I actually changed it occasionally but found myself going back to Nido again.. Her vitamins used to be Cherifer but I think it doesn't work well for her appetite so I changed it to Tiki Tiki, which apparently gave me fairly satisfactory result, but I am still looking for much better milk and vitamins for my kid which will help her gain extra weight.. Actually I am planning to buy different milk for her as soon as she finishes her can of Nido 3plus, and your suggestion gave me an idea, so thank you and I will try your suggestion.. Happy myLotting!

• United States
16 Aug 10
I remember when my kids were little. They are now teens. My son had that problem being skinny due to some health issues. The Pediatrician had me put my son on a glass of whole milk with his meals as well as one glass of milk just before he lays down. As a picky eater, the Pediatrician also told me to buy Insure for children. Give him on can a day as a snack between lunch and dinner. That helps give your child protein, nutrients, as well as gain a little. My son loved it and said it was like having a shake. I as an adult, have had a weight problem for years. In high school I was 115Lbs. Five years latter I had my first child. The year before I got pregnant with my daughter I was weighing 99Lbs. I have been that way up till three months ago when I decided to try the same thing the Pediatrician told me to do with my son when he was four. It is a slow process but does work. I have milk with my cereal in the morning, one at lunch, then dinner and just before I go to bed. I even eat a lot of dairy like a bowl of ice cream with my glass of milk before going to bed. In the past three months I have done this and still do. I have gained 110Lbs in three months. These are some reminder to help. (1) One 8oz glass of mild 3x a day with meals. (2)Insure for kids (in toddler isle of the grocery store)1 cold can between lunch and dinner. (3)one 8oz glass of milk and 1 - 2 scoops of your daughter's favorite ice cream in a bowl before going you lay her down. *Keep a chart. Weight her before you start this procedure. Weigh her after she wakes up as the weight may very in the late of the day. Weigh her again one week later. Say you start on Wed. Weigh her every Wed. Do this for a few months. You will be amazed. ~WISHING YOU THE BEST OF LUCK WITH YOUR DAUGHTER~ :)

• Philippines
17 Aug 10
Hi there megabiz, Thanks for the wonderful help tips. I actually copy and pasted your response and I am going to make it as a guideline.. But one thing I was thinking if I will be able to find Insure here in the Philippines.. Because whenever I go to supermarkets, I usually take time to browse on products for kids which may be helpful for my kid to gain weight, but I haven't seen Insure in any of the supermarkets I've visited.. But there is one milk I saw. which is Pediasure, and I think it's similar in effect with Insure. Do you think that would do? The milk is for sickly and picky eaters.. My daughter loves ice cream and she gets to eat it mostly 3x a week..But she eats a lot actually.. Thanks again for your tips..

• Philippines
16 Aug 10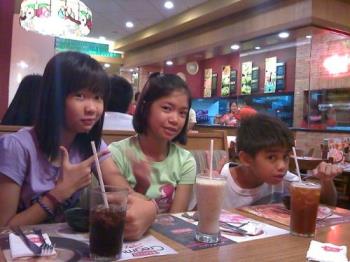 I remember when my kids were still young, it was ten-eleven years ago they were age four, ok to share you some of our experiences, we did not concentrate merely on the type milk they drink, i remeber it was Gain toddlers then Nido fortified and just Nido for now, that is up to know they are ages 10,12 & 15. We have a more attention placed on what food they eat, no Carbonated drink, up to now and we give them American type Meriendas, meaning high protein diets. presently they are not fat but they are sure active and healthy ans all are consistent honor students.

• Philippines
17 Aug 10
Right now my child's milk is Nido 3plus.. And I think it gives her most nutritional requirements compared to other milks i've tried on her. My daughter is active and bright. Though she's not fat. And I encourage her to eat three rice meals per day and snacks but there are times that she resists eating some foods. Maybe it's on the stage of her growing up that makes her like that. She is schooling now and I guess she gets interested with a lot of things and her attention is drawn with those, making her ignore eating at times. But I always make it a point to insist on her. I won't even let her skip meals. And I serve her milk 4 times a day.

• United States
16 Aug 10
i have grown up drinking whole milk until i turned 13 yrs old and started drinking 2% milk.. i found that taking vitamins everyday.. at lest in my case had no effect on what energy i had.. so long as you toddler eats healthy and plays actively there should be no problem with what kind of milk he/she drinks! hope this was helpful :)

• Philippines
16 Aug 10
Hi superboy thanks for responding.. My kid is an active toddler but I don't feel quite satisfied with her body built because as I've mentioned I think she's thinner. But she has active mind, and she doesn't get sick often.. My husband says that even if our kid is not stout, she is healthy. Actually my kid is healthy, my only concern is to make her body plumper than what her body is right now.. I guess I'll just have to give her healthy foods every time and vitamins for her immune defense right? Thanksa again..

• India
16 Aug 10
ya. it's good. always best food for child is mother milk . but you having four years baby. so she come to other stage. all time's good for best to kids is cow milk only i'm not mention in packet milk dont use one avoid that.