What is your favourite seafood?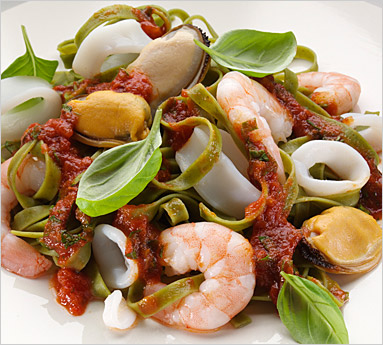 United States
9 responses

• Chile
25 Aug 10
I like the spider crab we have. I just add homemade mayo (the kind you make by hand with just the egg yolk). I also like abalone either in a salad (mayo again) or in a thick meaty soup with diced abalone, bread crumbs and parmesan cheese. Squid is also wonderful in many ways and so is shrimp (I like fried shrimp with garlic).

• Chile
26 Aug 10
In my country, Chile, we have a lot of seafood so we have a culture of eating it. Abalone used to be fairly common here but it was fished almost to extincion because it was exported to Japan where it is a delicacy. Now we can only take it out when in season although there are always the poachers

. They are wonderful!


• United States
23 Aug 10
Mmm, shrimp is indeed tasty, but I think I'd have to put salmon as my number one favorite. Lightly seasoned with tamari, lemon juice, dill, and topped with a little bit of vegenaise before frying or baking it. If I bake it, I like to set the oven on broil at the very end to crisp up the top and brown the vegenaise a little.


• United States
25 Aug 10
You don't add any spices or anything to the salmon?

• United States
21 Aug 10
I absolutely love shrimp and fish. Fried giant shrimp and haddock are the business!

• United States
25 Aug 10
What type of fish is haddock? I have heard of it but never tried it. How do you prepare it?

• United States
24 Aug 10
I like shrimp. I like to grill or fry them, but I will also eat them boiled. I also like fried, steamed, or raw oysters....


• Philippines
22 Aug 10
My favorite seafood is squid. I just love squid, it is the only seafood that survived in my favorite list. I used to love crab and shrimp so much but now my likeness for these two is slowly declining. I dont know why.. Maybe because I cant eat the two often unlike the squid and crabs and shrimps are hard to eat because you still have to open them up.

• Israel
21 Aug 10
I also love shrimp. And calamari! I do like it deep fried too, all sorts of sea food work for me really.

• Philippines
4 Sep 10
i love all seafoods,,, ^^ i just can't get enough of them,,,, ^^ i can even finish two whole crabs, and want to crave for more,,, ^^