How Important is Your Engagement Ring?

United States
August 21, 2010 2:49pm CST
A neighbor got married. A relative died and left her a large diamond ring. She opted to remove the diamond from the ring her husband gave her and put the larger diamond in it. Would you have done the same? Or, would you have kept your engagement ring whole and worn the larger diamond on another finger? How important is the significance of the engagement ring your husband gave you? Does it mean more than wearing a bigger diamond to look more prestigious?
6 responses

• Israel
22 Aug 10
I would never make any changes on mine, because the ring I have is the one my fiancee chose for me, and I am lucky, because I did like it. I think it is more special if you wear a ring that came from the heart, than if you wear a big and fancy one. But that is just me, and I know some people are not lucky enough to get a ring they like, like me. So then I honestly don't know what I would have done!

• United States
22 Aug 10
Whether it was one I would have chosen or not, it's the sentiment that would keep me wearing it more than the ring.

• Canada
22 Aug 10
The engagement ring is the first ring. Then comes the wedding ring, followed by the suffer ring. So the engagement ring starts the process.


• United States
22 Aug 10
Cute! But, how would you feel if you gave your girl an engagement ring and she took a gemstone from ANOTHER ring to replace the stone in the one you bought? Would you think she considered a bigger diamond worth more than your promise of marriage?

• Canada
22 Aug 10
I would view it an act of disrespect for me. That she is not satisfied with what I was able to give her. That my engagement was not to her satisfaction. It would leave a bad taste. It is not acceptable as far as I'm concerned. I would say: "Give me back the ring or keep it if you insist but the engagement is off." Sorry, but I just can't accept that the love of my life would be so inconsiderate. What else would she be unhappy about? It would raise questions and doubts.


• Sweden
22 Aug 10

Why wear a ring at all. If the promises of the couple are reliable, I cannot see any need for a ring.

Well, maybe to show that they are no longer available for others, but the commitment is in the heart and that is the most important thing. If they choose to use a ring - why choose an expensive one. The risk for being robbed will be too big while walking around with diamonds..


• United States
22 Aug 10
In our instance, it was my husband's idea. I had no need of an engagement ring, but once he put it on my finger, I found it to be the most precious, though not the most expensive, piece of jewelry I owned, simply because he gave it to me.

• Sweden
22 Aug 10
Yes, the thought is the most important. I understand you point of view


• Malaysia
22 Aug 10
Mostly symbolic, I guess. Even some married people do not wear wedding rings. I do not wear them too. All I wear is a watch. Most of the jewelry are cumbersome and restricting. I am not a publicity seeker wearing all the glitters. Best to be your own person!


• United States
22 Aug 10
People have to decide for themselves what they prefer. I never felt that my engagement or wedding rings were cumbersome or restricting. I always looked at them as symbolic of our commitment to each other and cherished them for that reason.

• United States
24 Aug 10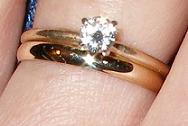 My engagement ring is very important. Not only was it used as my engagement ring, but as my wedding ring as well. As it holds a lot of sentimental value for me, I'd rather keep it whole. It may not be a big diamond, but I love it. It's the perfect size for me. I only wish I could wear it still. After 15 years of marriage it finally got too tight for me. LOL Happy mylotting!

• United States
24 Aug 10
I know what you mean. Mine is scheduled for resizing next month! Why is it that years = pounds? Guess I have to lay off the brownies!

• United States
21 Aug 10
I would never never in a million years take the setting out of my engagement ring and put in a bigger setting, it's just rude beyond belief. I actually only wear a wedding ring, I don't wear my engagement ring but I'd be afraid it would pinch my fingers if I wore both, as I have sort of chunky fingers.

• United States
21 Aug 10
Like you, my engagement ring is terribly important because it represents our first real pledge to each other. I, too, received a huge diamond as part of an inheritance, but opted to wear it on my right hand, leaving my wedding band and engagement ring from my husband in its place of honor on the left hand.