What do your do with old unwanted underwear and undergarment ?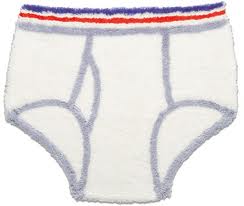 Malaysia
August 23, 2010 3:34pm CST
Well,if is old clother and torn beyound repair , they become rags for wiping dirty surfaces and such, however , if some are still in wearable conditions will pass it own to other poorer family to use.Old baby clothers are pass around among relatives, old shoes to charity , but personally my old underwear used to throw away , and some used for my dogs wiping their cage and body after bath. How about your ,any suggestions?
6 responses

• United States
23 Aug 10
I try to be charitable with old clothes and shoes and donate them to goodwill or places like that. Underwear I have to draw the line, it goes in the garbage. It is not even something I want to use to clean anything. Just would feel a little strange with it hanging around.

• Philippines
24 Aug 10
Our old undergarments usually become rags,too. My mother doesn't want to see undergarment rags so she will try to sew them together in circles and cut the edges. Those that can still be used were passed on to others.

• United States
23 Aug 10
Hi, kukueye. If it is torn up really bad, I will throw it away. And if my underwear is too little for me, I will just throw it away in the trash. It does not appeal to me to give my underwear to people. If I have already worn it before, I will not give it to anyone else.

• Davao, Philippines
23 Aug 10
Icontinue using my underwear until it's useful or the condition still good but when it's already tear I mean not good to used it anymore, I throw it in the garbage. No need to keep it or give it as charity. I think this is not advisable to give your underwear or undergarments to anybody, it's a pron of scattering viruses or other kinds of illnesses.

•
24 Aug 10
I frame all my old pairs of underpants and sell it as modern art.

• Philippines
24 Aug 10
i just throw them away, reusing it is weird for me.